39 Favourites
67 Comments
1K Views

Intro
</u>

Welcome to the latest edition of So i herd u liek interviews??. This is the 17th volume in a series of interviews aimed at finding out about emoticonists from the deviantART community.
This series links with the weekly volumes of 'so i herd u liek emotes??' which have now been running since October.

The emoticonist
</u>

This editions featured emoticonist is
Marc-pHX
. Throughout his time on dA Marc has produced a collection of brilliant emotes, many with great animation skill and high level of detail. I was able to find some time (at 3am UK time

) to sit down with Marc and take this interview

The interview
</u>


How and when did you get into making emoticons?
I started making emoticons in 2006, after viewing darkmoon's (check her username, I can't remember the numbers XD) gallery. At that time, I was looking for some kind of art that was a mix of animation and pixel art, and emoticons seemed to be the perfect choice. Okay, I know that there are emoticons that aren't pixel art, but whatever.
When you first started making emotes, did you use any tutorials?
I can remember two tutorials, right now: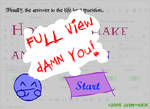 and
, and guess what, both written by
darkmoon3636
. Even though I used both tutorials, on my very first emoticon I tried to make my own shading and animate the way I thought it would look better. But the tutorials helped me a lot.
Are there any particular tutorials you have found/created since that you would like to suggest?
Well, I've written a tutorial about how to improve the look of your emoticons by using transparency. I don't know whether it's really useful, but here we go: :thumb95741366:. About tutorials I have found, there are too many, and you can find them all on my favorites page. But one I would suggest is:

What methods have you used for shading? Do you have a preference?
When I started making emoticons, the shading was made pixel by pixel, since the tutorial I had seen taught me this way. After a break of one year from dA, in 2008 I decided to use Photoshop, using gradients and some other effects. Now I always use the one I made using Photoshop, because it's way easier to change the color of the emoticon when I feel it's time to use a new one.
Which programs have you used to create your emoticons? Are there any you can suggest?
I have always used a Paint + Ulead Gif Animator 5 combo. Okay, now I use Photoshop, but only for creating the base of the emoticons. For some weird reason, I can't pixel on UGA5, therefore Paint is my best friend every time I have to draw anything. As for suggesting, I don't know. It's all a matter of which softwares you're familiar with. Take a look at the tutorials and spend some time on different programs. Pick the one you think it is the best one, not the one people say is the best.
Do you try to stick to one particular style and technique, or do you prefer to experiment?
It really depends on what kind of emoticon I'm making, but I like to try new effects, sometimes. I just don't think it's nice to try something new every time, because then there will be lots of differences between one emote and another one made by the same person. Improving is good, but changing things too drastically is not, in my opinion.
Are there any particular effects you've found difficult, or have been unable to create?
I hate animating fire. And water. And any kind of element. They move so freely and oddly, that's why I can't remember right now any emoticon from my gallery that features any of them.
Are there any particular qualities that you feel can make an emote stand out from any other?
Making animations flow smoothly is important. My Principles of Animation teacher used to say that timing is everything when you have to animate, and I can't agree more. But, in my opinion, nothing can beat a good, original idea. However, you need to know how to express your idea, otherwise nobody will understand it. Oh, and humor usually works. Original idea + humor is a killer combo, I suppose.
Where do you get your inspiration / ideas from?
Uh, anywhere, I guess. Talking to my friends, playing games, reading books (it doesn't happen too often, though), visiting websites or even when I go to bed and can't sleep. I presume there's no right place to have a good idea. But there's no good idea if you spend all your time doing the same thing, day after day. When you run out of ideas, try something new.
Roughly how long does it take you to go from concept to finished emoticon?
I think almost all emoticonists answer that question with "it depends on the emoticon". Well, they're right! But I usually spend 3-5 hours on animated emoticons that require more than, let's say, 100 frames. However, some are so simple that some minutes are enough, while there are complex ones that need more than 12 hours.
Which are 3 of your favourite emotes from your personal gallery?
:thumb34115171:
It's easily my favorite one. This was made in 2006, and this kind of animation, with lots of scenes, wasn't common at those days. Days were spent on this animation, and it's one of the only emoticons from my gallery that I feel really happy with the result.
:thumb103890479:
Probably because Zidane is back on this one. Also, it was quite funny to look for all the references, like backgrounds. Nostalgia feelings.
:thumb135368747:
Uhh... I do this all the time.
Is there a particular emote in your gallery you would you like to see get more attention. If so, why?
Ah, I'm happy with the attention my emotes get. Actually, I've never expected that much attention, to be honest!
Are there any particular emoticonists you would like to see get more exposure?
To name a few,
Shicken05
,
ManiacalMuffin
,
BurgerBunny
and
madb0y
. There are possibly more, but my memory fails.
How did you come up with your emoticon character?
After submitting Don't Poke People, I wasn't feeling inspired to make another long animation too soon. So, after a conversation with snowmask about her Panda Tiem Calendar, I simply had the idea of making a happy, bouncing emote with a panda balloon. I thought the propeller beanie would add more happiness to him, so I gave him one. Then, after some time, I decided to officialy name him as my OC.
Do you feel like the emoticon gallery has progressed during your time as an emoticonist?
After taking a break from dA and coming back in 2008, I noticed how much it has progressed. Back in 2006, there was no CookiemagiK, no MenInASuitCase, no MixedMilkChocolate, as far as I know. Anyway, I feel that animations are slowly getting longer and longer, as a natural evolution of each emoticonist, and the quality is increasing together. However, the more you explore some kind of art, it takes more time to progress more. I wouldn't be surprised if the quality disparity between 2008-2010 will be less noticeable than it was in 2006-2008.
Where would you like to see emotes go in the future?
Perhaps exploring 3D and, why not, sound. Although sounds tend to be annoying when you're not expecting them. Oh, also, it would be great if we could use them offline. Sometimes I want to express a

face to my friends, but I lack the acting skills to represent a decent one.
Are there any trends or styles you'd like to see less of in the gallery?
I only wish there were less projects for a time. Sometimes I think there are too many.
Is there any advice you would like to give to new emoticonists?
Lead, not follow. Be original and be yourself, not somebody else. And keep trying. Always. Woot, encouraging words, I guess. Oh, and have fun!
If

took

to a beauty salon, what would happen?

would say he wanted to be just like

. Then

would tell him it wasn't possible, since she had no more parenthesis and hyphens

Features
</u>

:thumb116933183:
:streetball2: is a brilliant lil emote with amazing shading, smooth animation and an amusing ending
:thumb91307559:
:guitarbattle: is a top notch representation of an epic guitar hero battle with great animation and amazing attention to detail
:thumb104722132:
You just can't help but smile at :pandaballoon:. It's an amazingly cute and adorable emote with awesome pixelling and flawless animation work

Previous volumes
</u>

So I herd u liek emotes??
Volumes 1-40
Volume 41
- 9th August
Volume 42
- 14th August
Volume 43
- 23rd August
Volume 44
- 30th August
Volume 45
- 6th September
Volume 46
- 13th September
Volume 47
- 20th September
Volume 48
- 27th September
So I herd u liek interviews??
Interviews 1-10
Interview 11
-
Kermodog
- 12th June
Interview 12
-
Mr-Jaunty
- 24th June
Interview 13
-
de-Mote
- 12th Aug
Interview 14
-
madb0y
- 27th Aug
Interview 15
-
Synfull
- 3rd September
Interview 16
-
Sinister-Starfeesh
- 16th September