So i herd u liek interviews - Caeser1993
35 Favourites
48 Comments
1K Views
After launching my first interview article, many people have been eagerly waiting for the next one. It was originally proposed to be a monthly article, but with another 2 weeks until the next article is due, I decided to change the schedule to 2 articles a month. This will also allow more emoticonists to be features, so I feel it is a good decision


Intro
</u>

Welcome to January's 2nd edition of So i herd u liek interviews??. This is the second volume in a series of interviews aimed at finding out about emoticonists from the deviantART community.
This series links with the weekly volumes of 'so i herd u liek emotes??' which have now been running since October.

The emoticonist
</u>
This issue's featured emoticonist is
Cmotes
. During their time on deviantART they have created a number of excellent emoticons including
throw knifes
and
powersanta
and have recently set up a community account named
Miscat-Busters
to help tackle the large number of miscats in the deviantART galleries. I was lucky enough to arrange this interview, so we could hear a little bit more about his time as an emoticonist.

The interview
</u>

How and when did you get into making emoticons?
It all started 4 years ago. I stumbled over deviantART, in search of some emoticons for my personal forum. dA really amazed me. Finally, I found darkmoon3636 tutorial, I thought I might give it a try. C:
When you first started making emotes, did you use any tutorials?
As I said, darkmoon3636's tutorial.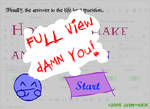 - by
darkmoon3636
Where do you get inspiration / ideas from?
Mostly they just popping out of nothing. Or I get requests, join contest, stuff like that. But there're apparently some inspiration from other emoticons. Like :typerblank:, that wasn't even my idea, just two epic emoticons combined.
Do you try to stick to one particular style and technique, or do you prefer to experiment?
Normally I like to experiment. But I've found a style I like and right know I won't change it. Perhaps when I get bored of that one.
Are there any particular qualities that you feel can make an emote stand out from any other?
Cookiemagik got the point. Your emoticons are getting popular if you get great ideas. It's just like... music. Somehow.
Which programs do you use to create your emoticons?
Ulead Gif Animator 5. Not the best choice maybe, but I like it. C: I'd like to take a look at photoshop though :C
What methods have you used for shading? Do you have a preference?
I prefer coloring emotes by hand. Gif Animator hasn't got a gradient tool I think. But I always colored by hand, so I don't need one.
Roughly how long does it take you to go from concept to finished emoticon?
Depends on the idea. Most emotes take 2 hours.
Are there any particular effects you've found difficult, or have been unable to create?
There're lots of them. The problem is, you're always thinking of awesome effects, but if you start making the emoticon, you're noticing it's not that easy to do as you thought.
Which are 3 of your favourite emotes from your personal gallery?

,

,

Are there any particular emoticonists you would like to see get more exposure?
There're some cool new emoticonists, like
PatrickRuegheimer
and
ExFaceCake

How did you come up with your emote character?
Well, I thought of getting an emoticon character too. Since I had no idea what I could make, I posted a journal.
Kermodog
then, if I remember correctly, mentioned a cyborg with headphones would be quite fun, as well as a reaper with an iPod. I chose the cyborg

Do you feel like the emoticon gallery has progressed during your time as an emoticonist?
Yes, some of the greatest emoticonist unfortunately left deviantART. But while I left dA 1 year ( exactly one year, that was weird :0) some cool new emoticonists appeared. Too bad I wasn't there.
Where would you like to see emotes go in the future?
Whoa, difficult to say. Uhm, well,
MenInASuitcase
and
MixedMilkChOcOlate
are making such great backgrounds, I'd like to see more artists like that :0
Are there any trends or styles you'd like to see less of in the gallery?
Less miscats plz. Everybody's got their own style, if they like it, fine. All in all I love all styles

Is there any advice you would like to give to new emoticonists?
Visit
Emotication

Is there anything else you would like to add?
I'm thanking my parents making this possible.
And as my final question, if

and

went on a date, what would they get up to?
They would marry each other, of course. After 3 years, they'd get two children, :buckfella: and :fellatooth: and they lived happily ever after.

Features
</u>


I'm always a big fan of hug and glomp emoticons. I love the way that so many different variations can be made out of a simple sign of affection. :slowmotion glomp: is no exception to that. The whole emote is very cute and flows very smoothly. The shading on the emotes is simple but very effective and the action is nicely created. The 3D rotation is animated perfectly making this one of the brilliant glomp emoticons on dA.

Vehicles are never an easy item to create for emoticons, but the plane created in :planeglomp: is pixelled very well. The other elements of the emote are also excellent and the bounce is very cute. The expressions of the emote are also used brilliantly. The way the camera chops between the 2 scenes is unusual to see in an emote, but really adds to the effect.
One of my other favourite emotes from
Cmotes
's gallery is :egg: It is an all round excellent emote that takes an unexpected twist. The animation and shading is very smooth and the whole idea is very unique and amusing. It loops very well and shows how random objects can be used within emotes

Thank yous
</u>

I'd like to thank
Cmotes
for offering his time to be interviewed, and to
Red-Bananas
,
Marc-pHX
and
zikes
for assisting me in the idea and question development

Previous volumes
</u>

So I herd u liek emotes??
Volume 1
- 12th Oct
Volume 2
- 19th Oct
Volume 3
- 27th Oct
Volume 4
- 2nd Nov
Volume 5
- 9th Nov
Volume 6
- 16th Nov
Volume 7
- 23rd Nov
Volume 8
- 30th Nov
Volume 9
- 7th Dec
Volume 10
- 14th Dec
Volume 11
- 21st Dec
Volume 12
- 28th Dec
Volume 13
- 4th Jan
Volume 14
- 11th Jan
Volume 15
- 18th Jan
Volume 16
- 25th Jan
So I herd u liek interviews??
So I herd u like interviews??
- 15th Jan -
CookiemagiK