So i herd u liek emotes?? - Volume 93
46 Favourites
33 Comments
1K Views
Welcome to this week's volume of so i herd u liek emotes. This is the 93rd volume in a weekly series aimed towards promoting emote and emoticonists from the dA community. It features emotes posted within the past week from both well known and new emoticonists, as well as featuring some other great emote projects and contests.

Featured Emoticons

1.

Happy birthday fella by
zakarranda
is a fun piece of animation with brilliant detail and impressive looping.
2.

You can't help but love the expression on the blue emotes face in Driving school by
Katuend
. The car is nicely pixelled and I'm sure it's an emote many drivers can relate to.
3.
I really love the range of colours in dragon rider by
xxghost250xx
. The whole scene has been wonderfully pixelled and its managed to capture a great sense of life in a single scene.
4.

There's something about Grave digga by
Indae
which really appeals to me. The animation of the spade has been really nicely done and the effect used on the dirt really adds to the animation
5.

The combination of a cute expression, great shading and nice use of shadows works well with the animation in :fly: by
guitarcraze
to make a great all round emote.

Other great emoticons posted recently

1. :thumb174153057:
:thumb174105101:

:thumb174012161:

:thumb173986930:
:thumb173839858:



:thumb173501212:







:thumb174255869: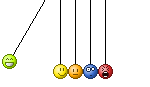 :thumb174510515:





Featured projects

Calendar collab project
Krissi001
has recently launched a fun new project which encourages entrants to join up with a fellow emoticonist and take part in fun collab together. Its set around a calendar theme where each pair makes an image for a set month with some impressive results. Certainly check it out and consider signing up, or making an emote for the bg
Tube project
:thumb174080041:
Another fun project launched this week is the tube project hosted by
dutchie17
. The concept is based around a tube of stressballs where each emoticonist comes up with their own personal stressball to add to the tube. Its really easy to take part in and theres plenty of room for more, so stop by and take a look.

Babies

To mark the fact my 1 year old niece is currently staying with me, this week's feature is based on the word 'baby'










:thumb52300449:





Get involved

Get involved is a newish section to the news article where each week i suggest a way to get involved in the community. This week the suggestion is ....
Find a emote related to dA's 10th bday and leave a comment. The comment can be indepth or just a simple, but get involved and help celebrate. Feel free to leave a link here too


Noticeboard

- The winners of the Strong MRC were announced last week. You can find a copy of the results
here
- As July is now over,
mintyy
has posted a roundup of July's DDs. Be sure to check them out on
this page
- A new opus contest was launched this week. You can find all the rules and info
here
- There's a good number of emote contests right now with a range of themes and prizes on offer. Check out
this journal
for more info
- The results for
Emoticiety
's recent contest have now been released. For a list of winners take a look
here
- There have been some more updates over at Smileypedia. For more info swing by
this journal
-
Wooded-Wolf
is working on an encyclopaedia of emoticon OCs and is looking for your input. If you're interested there's more info
here
- I've started a new news series known as 'Blast from the past' focusing on emoticonists no longer active in the community. You can find a copy of the first article on
this page
- A new group focusing on the large artistic emoticons has also been launched this week. So if you have some spare time, swing by and check out
Emoti-Art


Previous volumes

Volumes 1-87
Volume 88
- 3rd July 2010
Volume 89
- 10th July 2010
Volume 90
- 17th July 2010
Volume 91
- 23rd July 2010
Volume 92
- 1st Aug 2010