Welcome to this week's volume of so i herd u liek emotes. This is the 90th volume in a weekly series aimed towards promoting emotes and emoticonists from the dA community. It features emotes posted within the past week from both well known and new emoticonists, as well as featuring some other great emote projects and contests.

Featured Emoticons

1.
You can't really fault :pillowdive: by
capncraka
. It displays great use perspectives with smooth bouncing and a lovely concept.
2.

I really adore Para-noid by
Mr-Jaunty
. It combines a simple but amusing play on words with nice animation to make a great all round emoticon.
3.

Time mage by
CookiemagiK
is a brilliant example of how vectors can be combined with pixel emoticons. The animation is mesmerising to watch and creates a really brilliant emoticon.
4. :thumb171013766:
Ladybug's picnic by
Mirz123
is an adorable image. The ladybirds have been nicely pixelled and arranged and just goes to show inspiration for emotes can come from just about anywhere.
5.:thumb171611756:
I had to giggle at Last man standing by
LedMaiden
. The static frame has an awesome sense of action and really gorgeous shading to make a scene full of life.

Other great emoticons posted recently



:thumb171283197:





:thumb171077880:

:thumb170907230:

:thumb170893779: :thumb170882523:


:thumb171182245: :thumb171182706:

:thumb171182427:






Crafty emotes

I decided to delve into the artisan craft category this week to find some crafty emotes to feature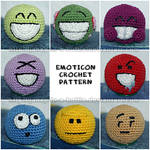 :thumb170073905:
:thumb104677517:
:thumb169477082:
:thumb72888962:

Pink

Continuing with my colour theme, we have now hit pink















Get involved

Get involved is a newish section to the news article where each week i suggest a way to get involved in the community. This week the suggestion is ....
Promote an emoticon based contest. This could be through a journal entry, word of mouth or even entering it yourself. You can find a list of open contests on
this page

Noticeboard

- There is a new contest over at
EmoticonOpus
with the theme of pillows. You can check out the info in
this journal
-
Krissi001
is considering creating an emoticon calendar and is looking for input on the idea. The final calendar would be sold through dA and all profit pumped back into the emote community. If this sounds interesting or you would like to add your opinion, you can find out more
here
-
CookiemagiK
has launched the next in his 'revamp my stuff' contest series. For a list of prizes and rules take a look at
this page
- There is also a new contest over at
SuggestAnEmote
. More info can be found
here
- There have been more updates over at Smileypedia. You can read a summary of them in
this journal


Previous volumes

Volumes 1-85
Volume 86
- 20th June 2010
Volume 87
- 28th June 2010
Volume 88
- 3rd July 2010
Volume 89
- 10th July 2010