Welcome to this week's volume of so i herd u liek emotes. This is the 89th volume in a weekly series aimed towards promoting emotes and emoticonists from the dA community. It features emotes posted within the past week from both well known and new emoticonists, as well as featuring some other great emote projects and contests.
As i'm still in Sweden we have another guest section from the lovely
zachriel


Featured Emoticons

1.

Summer ice tards by
Droneguard
fits the sunny weather perfectly with a cute arrangement of emotes, brilliant shading and simple but nice animation.
2.

Skittles Matryoshka doll by
MixedMilkChOcOlate
is a real eye catching emote with great use of colour and movements which flow nicely together.
3.
My new pet by
Colorcatcher
displays a really great concept that has been well executed with nice pixelling, great shading and perfect use of expressions.
4.

:cantdonate: by
Yo-Bonewire-Boy
is another nice emote submitted this week with a fun concept and a fluent bounce motion
5. :thumb170086941:
I can't help but smile at Fancy tard by
LedMaiden
. The detail packed into it shines through to make an emote which fits 'i say' perfectly

Other great emoticons posted recently


:thumb170647540:










:thumb170041241: :thumb169970284:




:thumb170263508:





Feature projects

This week a couple of new projects were launched which you can check out
-
Above the influence project
- hosted by :dev stuck-in-suburbia:
-
Emotionicon Project
- hosted by :dev kokonut10:
-
Emoticon down hill project
- hosted by
Adriyany

Swede's Packs Galore Personal Picks

Back in April, a
contest
was launched to kick off the new emoticon pack group called
Pack-it-in
. This contest spoke to me (
zachriel
) on many levels, as it combined both useful chat-friendly emoticons and uniform packs with emoticons that looked nice together. I decided long ago that I would take the time to judge these packs on a personal basis and pick my own winner squad, without having seen the announcement of the actual winners first. As
Synfull
is still in my apartment I figured now would be a great time.
Judging these packs was an interesting process. I started off by going through each pack, one by one, and adding 1 point for each emoticon I felt was useful. From the 59 entries still available, I then ended up with 10 packs with 6 points or more (50% good stuff). I looked at the top four best ones and gave each emoticon from these four packs a score from 0-2 (0 means I wouldn't want to use it, 1 means I'd use it, 2 means I'd love to use it often), and this is how I ended up with the selection of winners.
4.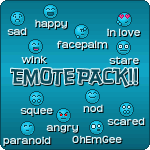 With a total score of 9 points,
stuck-in-suburbia
reached 4th place with the "EMOTE PACK". I especially liked the
excited
emoticon.
3.

With a total score of 10 points,
CookiemagiK
reached 3rd place with the "Multicolored Emote Pack". I especially liked the
angry
,
frightened
, and
rocking
emoticons.
2.

With a total score of 13 points,
Mr-Jaunty
reached 2nd place with "A Pack". I especially liked the
sad
,
angry
,
evil
, and
pouty
emoticons.
1.

With a total score of 14 points,
JulienPradet
reached 1st place with the "Pack Galore Emote Entry". I especially liked the
frightened
,
excited
, and
shocked
emoticons.
Some of the pack entries included themed emoticons of odd shapes, such as various animals or characters. I myself much prefer ordinarly circles to display my emotions, but I feel the
Bunny Pack
by
KlauS92
deserves an honorary mention for highly usable bunny emoticons.

Get involved

Get involved is a newish section to the news article where each week i suggest a way to get involved in the community. This week the suggestion is ....
Step into the
#WeEmote
chat and say hi. Just be aware that the chat isn't always active, so if at first it seems dead try again later


Noticeboard

- There is a critique night set up in the emote chatroom
#WeEmote
tonight at 8pm UK time. If you fancy getting some feedback then consider popping along.
-
CookiemagiK
wrote an epic journal summarising the emote community and things to check out. Its definitely worth a read and you can grab a copy on
this page
-
SuggestAnEmote
are about to start up a new contest and are looking for input. You can check out the info
here
- The winners of the opus 'jump' contest were announced this week. You can find a list of winners in
this journal
- The latest edition of emotional emoticons was posted this week. You can find a copy
here
if you missed it
-
mintyy
wrote up a summary of all June emote DDs. You can find it in
this news article
- I posted a new tutorial on how you can use emoticons around the site. So if you or someone you know would like to know, you can check it out
here


Previous volumes

Volumes 1-83
Volume 84
- 5th June 2010
Volume 85
- 12th June 2010
Volume 86
- 20th June 2010
Volume 87
- 28th June 2010
Volume 88
- 3rd July 2010