Welcome to this week's volume of so i herd u liek emotes. This is the 87th volume in a weekly series aimed towards promoting emote and emoticonists from the dA community. It features emotes posted within the past week from both well known and new emoticonists, as well as featuring some other great emote projects and contests.
I apologise for it being a day late this week, but i've made up for it by jam packing it with goodness


Featured Emoticons

1.

Circus ball by
Droneguard
just really makes me smile. The cute expression, brilliant emote shading and top notch ball animation all work together to make another fabulous emote.
2.
The smoothness of :doyouseedemtitsbro: by
capncraka
is just mesmerising to watch. The bounce and eye pop move so fluently together and create a brilliant and usable emoticon.
3.

Another brilliant emote from this week is Read me by
CookiemagiK
. The fluent motion and great perspective work make another stunning emote with an amusing theme.
4.

Just... a little ... higher by
J-Works
is just a brilliant piece of animation work. The idea is displayed in a cute way with animation that flows throughout, creating an emote you can watch over and over again.
5.

I couldn't resist featuring Cheerin' on mah snail by
wisekidk
. The simple animation works in a really effective way with adorable results.

Other great emoticons posted recently




:thumb168670447: :thumb168665683:




:thumb168619594:





:thumb168445930:



:thumb168286438: :thumb168252452:










:thumb168757145:














:thumb168941847:



:thumb169065768:

Promoting Positivity

If you watch a number of emoticonists you may have already seen a number of 'stickytape and positivity' journals pass through your inbox and i'm going to bring the topic up here again.
For a while now the emote community has felt a bit disconnected compared to how it's been in previous years. After quite a while of moaning and feeling sorry for ourselves, this week i and several other emoticonists have encouraged the community to stick itself back together and to pump in some long needed positivity.
The concept is very simple. By suggesting a number of simple ways to communicate and connect with each other in the community, we can hopefully strengthen the support within us and make a better, friendlier and stronger community for us all.
It doesn't have to take long at all. But a little bit and support and communication by everyone can really make a difference. You can read the my full journal on it
here
, or take a look at suggested ways to get involved in the list below :D

- Suggest an emote DD to mintyy
- Host a contest at EmoticonOpus
- Pimp some current contests
- Join in an open project
- Meet some emoticonists in #WeEmote
- Suggest an idea at SuggestAnEmote
- Comment on a new emote
- Wish an emoticonist a happy birthday
- Welcome and support a new emoticonist
- Promote a useful journal
- Suggest a topic for a feature in So i herd u liek emotes??
- Send in a 'did you know...' fact for a So i heard u liek emotes??
- Write your own journal to promote stickytape and positivity
- Educate people on what belongs in our gallery
- Feature a range of great emotes in your journal
- Propose a theme for an Emotional Emoticons article
- Suggest something else for this list

This list is stored in a custom box on my page if you wish to view it again


Feature Projects

Desert Island Emote project
Wooded-Wolf
has launched a great new project this week based around desert islands. Each entrant can customise one of several bases to make a fun and unique island for your emotes to explore and contribute to an awesome project
Grabber machine project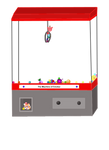 Another project recently launched is the grabber machine project. Based around the arcade game, the project aims to fill the container with loads of emotes. It's currently got alot of space left, so consider making an entry to add in
Emoticon puzzle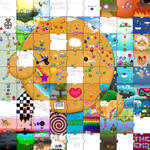 The emote puzzle has to be one of my favourite projects i've seen, and it's a bit of a shame many people that signed up never completed their pieces. In a bid to get it finished,
AidanAsha
has now set a time limit of 11th July for all reserved slots to be completed. After this point she aims to open up any empty slots for new people to take and complete.
So if you know you have signed up for a slot and have not yet made you're piece, you better get a move on or risk losing the chance to enter


Get involved

To go along with the 'sticky tape and positivity' idea, i have decided to launch a new section in this article. Each week i will be posting a suggested way to get involved in the community. The tasks aim to be quick and easy to take part in (even for those from outside the community) and if a proportion of the community take part each week it will hopefully encourage and sustain some of the community spirit many of us desire.
This week the suggested task is to comment on 2 of the emotes featured in this article

The comments don't have to be long, but simply tell them what you like, what they've done well or even suggest a way to improve it. Share your opinion and get involved


Did you know ...

The first emote DD wasn't given until 2005. It was awarded to
budgieishere
by
halfliquid
and now appears on our legend.


Noticeboard

- Last week saw the re-launch of the emote games with a fun event hosted by
mintyy
in
#WeEmote
on Sunday night. It was great to see many of you there and much fun was had by all, so please go give
mintyy
a big thank you and watch out for the next one
- I have made the choice to make 'did you know...' section of this news article a less regular feature. I find it an interesting thing to do, but risk running out of things to mention, so unless someone is able to help me out, it won't appear every week.
-
birthdays
is hosting a contest to design a new stamp to advertise and celebrate the account and the unofficial birthday database. It's a perfect contest for emoticonists too and has a nice line up of prizes, so go take a look at the info
here
-
Krissi001
is attempting to make a list of all the emoticonists from around the community. Please check out
this deviation
for info and sign yourself up
- This week saw the end of
CookiemagiK
's 'Revamp My Stuff' contest. If you haven't seen the results then you can find a copy on
this page
- The latest edition of Emotional Emoticons was released earlier this week. You can grab a copy
here
if you missed it.
- The winner of round 17 of the caption contest was also announced this week. You can find the results on
this page
- Also this week, a new contest was launched over at
EmoticonOpus
on the theme 'jump'. It's a simple but great looking contest and a awesome prize list, so check out the info
here
-
mintyy
has also posted a
journal
on some of her future plans and would like you're opinions on the topic
- Next week i shall be in Sweden and although i plan to do the news article as usual, i may have something special planned in



Previous volumes

Volumes 1-80
Volume 81
- 17th May 2010
Volume 82
- 25th May 2010
Volume 83
- 30th May 2010
Volume 84
- 5th June 2010
Volume 85
- 12th June 2010
Volume 86
- 20th June 2010