Welcome to this week's volume of so i herd u liek emotes. This is the 70th volume in a weekly series aimed towards promoting emote and emoticonists from the dA community. It features emotes posted within the past week from both well known and new emoticonists, as well as featuring some other great emote projects and contests.

Featured Emoticons:

1.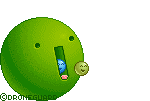 I couldn't resist featuring Puking emotes by
Droneguard
. The brilliant concept combines with awesome shading and animation to make a really fun emote.
2.

Really alone in the dark by
Pixelisto
displays some really great pixel work along with simple but effective animation to make an impressive piece.
3.

I absolutely adore the detail in code blue by
leogomes91
. The concept is displayed exceptionally well and everything works well together to produce a excellent emote.
4.

:loveyourlimitations: by
Ugghhzilla
steps outside the norm by combining emotes and text within the same deviation. However this pulls off to make a absolutely brilliant piece with a lovely message.
5.

Creating emotes involving fire is never an easy task, so when i see one such as Through the Fire by
Krissi001
i'm left in awe. The fire animation is absolutely stunning and the movement from the emote just completes the whole deviation.

Other great emoticons posted recently






:thumb155231029:




:thumb155146194: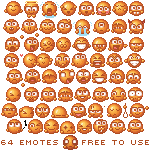 Categories

Most people will know the emote gallery is a bit of a state right now with more miscats than emotes. Whereas some of these can't be prevented, some deviations are placed in the emote gallery purely because the deviant doesn't know of a better place to put them.
For this reason i launched a new tutorial on emote categories this week which i would suggest you check out or atleast glance at


Emotes in stamps

Its quite easy for emotes to cross over into other art forms. One place they are commonly seen is stamps, so i decided to feature a few i had recently found
:thumb155542424:


:thumb153193414: :thumb145052904: :thumb145111132:



:thumb146718578:



Noticeboard

- A new opus contest was launched this week. Be sure to check the rules out
here
and consider donating a prize

- The winners of
Emoticiety
's latest contest were also announced. You can find the results in
this journal
-
Mr-Jaunty
wrote an interesting article comparing revamps to recolours. If you fancy a read you can find a copy
here
- The latest edition of emotional emoticons was also posted last week. You can take a look at it on
this page
- The next interview in the behind the pixels series was also posted recently. Be sure to check it out
here


Previous volumes

Volumes 1-64
Volume 65
- 23rd Jan 2010
Volume 66
- 31st Jan 2010
Volume 67
- 6th Feb 2010
Volume 68
- 14th Feb 2010
Volume 69
- 20th Feb 2010