Welcome to this week's volume of so i herd u liek emotes. This is the 67th volume in a weekly series aimed towards promoting emote and emoticonists from the dA community. It features emotes posted within the past week from both well known and new emoticonists, as well as featuring some other great emote projects and contests.

Featured Emoticons:

1.

Chasing cactus by
JulienPradet
is one of those extremely random but great emotes that can't but help make you smile.
2.

I adore the detail packed into computer addicted by
Sinister-Starfeesh
. Everything fits really well together to make a beautifully animated piece.
3. :thumb152642999:
Groundhog day by
Mirz123
is a very cute piece of pixel work with smooth animation throughout.
4.

Runaway heart by
BurgerBunny
is an amusing little emoticon with a great concept
5.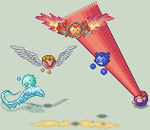 Original x-men emotes by
Wooded-Wolf
contains some beautifully pixelled emotes each showing some awesome effects

Other great emoticons posted recently


:thumb152972545: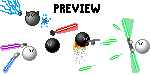 :thumb152655397:













Open Contests

There are quite a few contests open at the second, so here's a list of all the one's ending this month.

Artists Tools Opus contest
- hosted by
DEIDATVM
(13th feb)

Pizza contest
- hosted by
adele
(20th feb)

design an OC
- hosted by
capncraka
(25th feb)

Sparkles EMTC contest
- hosted by
SparklyDest
(27th feb)

Emotes in the Real World
- hosted by
Synfull
(28th feb)

Vampires = Vampires + 1

To celebrate the safe arrival of
SparklyDest
's son earlier this week i thought i would do a small feature in honour of the new little vampire. So check out some of the emotes below and if you haven't already, stop by
SparklyDest
's page and go leave some congratulations.



:thumb18056932:




Noticeboard

- I've been running a little low on topics to cover within this news articles, so if you have any ideas or themes you would like to suggest then just let me know

- The 'i'm happy plz' project has progressed into deviation form. Be sure to check out part 1
here
and part 2 on
this page
- The 'gnomes' opus contest closed this week and you can find a list of winners
here
- The new opus contest started up with a theme of 'artist's tools'. Be sure to check out the info in
this journal
- You can find a summary of all the Jan DDs
here


Previous volumes

Volumes 1-60
Volume 61
- 28th Dec
Volume 62
- 3rd Jan 2010
Volume 63
- 10th Jan 2010
Volume 64
- 16th Jan 2010
Volume 65
- 23rd Jan 2010
Volume 66
- 31st Jan 2010
Interviews 1-20
Interview 21
-
SparklyDest
Interview 22
-
Wooded-Wolf
Interview 23
-
Seiorai
Interview 24
-
mintyy
Interview 25
-
elicoronel16