58 Favourites
45 Comments
1K Views
Welcome to this week's volume of so we heard you liek emotes. This is the 57th volume in a weekly series aimed towards promoting emote and emoticonists from the dA community. It features emotes posted within the past week from both well known and new emoticonists, as well as featuring some other great emote projects and contests.
I do apologise for this being a couple of days late, but from time to time real life takes priority. To make up for it we do have a larger than usual issue


Featured Emoticons:
</u>

1.
Chess wars by
PoisonTouch
is a really detailed piece with some brilliant pixelling and loads of great action caught in a single static frame. Be sure to full view.
2.

:painting: by
dutchie17
is a simple but great emote which just goes to show the differences between human and emote anatomy.
3.

I really couldn't stop giggling when i saw Camwhore by
Ewig
. The animation is smooth throughout and the lifting up of the shirt/skin just really enhances the emote to create a perfect depiction of a camera whore.
4.

Wordmotes by
Gomotes
is an awesome pack of emotes filled with some really usable emotes with a great range of expressions.
5.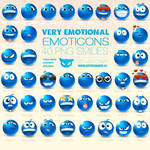 It's not often i feature a non-pixel emote but i couldn't help but feature very emotional emoticons by
lazymau
. It's a great pack filled with a wide range of really great emotes that i would suggest checking out.

Other great emoticons posted recently
</u>










:thumb144729195:




:thumb145334804:
:thumb145241018:



:thumb145142490:











:thumb144770849:

Plz accounts
</u>

Plz accounts have become a rapidly growing craze on the site. At one point in time the stats suggested 60 plz accounts were being made per day, and to be honest i wouldn't be surprised if that number has grown even further. However for those new to the community the name plz accounts can be confusing for a deviant, let alone the actual concept of them.
Therefore i have created a tutorial to cover everything about plz accounts. It talks about everything from what is a plz account, how to use them, all the way up to how to create them yourself. So if you've ever had a question about plz accounts, or if you're just interested in the topic take a look here:

Featured Project
</u>

Pixel Room Project
Although not an emoticon project, the pixel room project is a great way for people to practice their pixelling skills and join in on a community based project. Take a look if you're interested.
12 days of Christmas
sutapets
has started up an emote project based on the 12 days of Christmas. You can find more details about it
here
Advent Calendar
Unfortunately December crept up on we way to quickly this year and i was unable to make an advent calendar. I'll consider it for next year though


SuperdAmn + the EmoteCLOUD

For any of you that have been around in the community for quite some time you will most likely know about the Zikes script. When used within the dA chatrooms it let you access over 7000 additional emotes for use in a similar way to how the emote legend works.
Unfortunately the site was closed a couple of months ago and in the meantime we have had to manage with tweaking additional scripts to allow emotes to be used easily. However, this week a new script and database was announced as a replacement.
The emoteCLOUD developed by
zachriel
aka
nillemotes
will act as the new 'zikes database' which holds a list of all the additional emotes you can now use. It also has a number of upgraded features compared to the old database including the ability to have multiple codes attached to one emote. For more info, check out the
journal
or take a peek at the
website
SuperdAmn by
electricnet
is greatly updated version of the dAx script which intergrates a number of useful scripts from around dA. It also works along with the emoteCLOUD to form an equivalent (now fully working) version of the old Zikes custom emote script. You can find out more details on the
deviation page

Noticeboard
</u>

- The latest in the so i herd u liek emotes series was posted yesterday. You can find a copy
here
- I'm willing to release the answers to the
'How well do you know emotes and the emote community?'
quiz but i'm wondering how you would preferred them displayed. You can add your input
on this poll
.
- There's still a few more days left on the Caption contest round 8 where there's a 3 month sub up for grabs. If you're interested take a look
here
- Volume 14 of the OC interviews was also released this week. There's a copy
on this page
if you missed it.
- The winners of the latest opus contest were also announced this week. Take a look
here
for the results and congratulate the winners if you get the chance.
-
EmoticonOpus
is also running short on a subscription, so if you feel you would be able to donate one to the account it would be much appreciated

- The emoticonist Secret Santa project is now underway. If you chose to take part in this please try and get your entries in on time



Previous volumes
</u>

Volumes 1-50
Volume 51
- 18th October
Volume 52
- 25th October
Volume 53
- 2nd November
Volume 54
- 9th November
Volume 55
- 16th November
Volume 56
- 22nd November
Interviews 1-15
Interview 16
-
Sinister-Starfeesh
- 16th September
Interview 17
-
Marc-pHX
- 30th September
Interview 18
-
BlissfullySarcastic
- 16th October
Interview 19
-
nillemotes
/
zachriel
- 29th October
Interview 20
-
Gomotes
- 14th November
Interview 21
-
SparklyDest
- 30th November