Welcome to this week's volume of so we heard you liek emotes. This is the 5th volume in a weekly series aimed towards promoting emote and emoticonists from the dA community. It features emotes posted within the past week from both well known and new emoticonists, as well as featuring some other great emote projects and contests.

Featured Emoticons:
</u>

1.:thumb102953538:
New Zealand emoticon by
spiritedrat
is a great little static emote. For the deviants first emoticon it is of great quality. The shading is excellent and the outfit the emote is wearing is well drawn. This is a fine example of how an emoticon project can launch a new deviant into emoticons and unlock a great talent.
2.

Just DON'T Turn Around by
TheRockster
is another great static emote submitted in the past week. Although emote generally don't have text hanging in mid air, the words on this emote really add to it and making it an amusing snapshot of the moment before an emote is glomped
3.

Night party by
madb0y
is this week's 3rd featured emote. If asked what one of the hardest things to pixel for an emoticon, I would have a vehicle. It can be an extremely difficult challenge to get one looking great while in proportion to the emote and I have to say madb0y has done it perfectly. The detail on the cars is phenomenal and the background is amazing too. While the animation is minimal, it adds a certain life to the emoticon, making it overall a great image to look at. Please remember to download to view the full emote
4.

I am sure many people can relate to :lazybang: by
trezoid
at one point or another. The emote looks extremely relaxed and expresses this really well. The shading is also excellent and the animation may be simple but very effective creating a cute and useful emote.
5.
From time to time its always nice as an emoticonist to go back and remake an emote to show how far your skills have progressed. :ginger: by
E-motive
is a nice example of this. The updated emote is far smoother with great animation, a unique and funny concept and smooth shading creating an overall great looking emote.

Other great emoticons posted recently
</u>

:thumb103032217: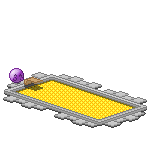 Featured tutorials
</u>

Special effects tutorial -

by
Bad-Blood

Featured emote project
</u>

This week the emoticon Gallery Moderator
Chimpantalones
launched an awesome emoticon project. It is known as the International Emote Project (IEP) and open to any deviant on DA. The idea is to fill a world map with emoticons used to represent different areas. Some areas are already full, the but there are plenty of countries still empty waiting for emoticons to fill them. You can also create emotes to be placed in the ocean/sea to fill up the areas where there is no land. It's well worth checking out, supporting and promoting.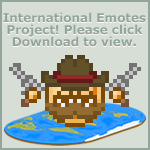 Featured contest
</u>

Also this week an amazing emoticon contest was launched. The Icon interlude Xmas 08 contest is open for any deviant to enter from now until the 17th of December. The theme is anything to do with Christmas and there is a list of brilliant prizes up for grabs, generously donated from a few deviants. It is definitely worth checking out and entering.
Icon interlude contest
organised by
E-motive


Previous volumes

Volume 1
Volume 2
Volume 3
Volume 4