57 Favourites
40 Comments
802 Views
Welcome to this week's volume of so we heard you liek emotes. This is the 49th volume in a weekly series aimed towards promoting emote and emoticonists from the dA community. It features emotes posted within the past week from both well known and new emoticonists, as well as featuring some other great emote projects and contests.

Featured Emoticons:
</u>

1.

Spirit archer by
Zmann966
is a brilliantly animated emoticon with an awesome light effect
2.

Imam hop over you by
Spelledeg
is an amusing little emoticon with nice pixelling and awesome energy, despite only being static
3.

The concept behind Pixel rules by
JulienPradet
is awesome and it's been executed with great shading and nice animation. Make sure you full view
4.

Improvised weapon by
TheUncle2k
is an original idea which has been nicely created to form an amusing emoticon
5.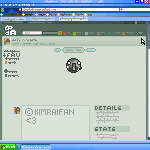 Fav and run revamp is another great emoticon by
KimRaiFan
which really shows how she has progressed in emoticons with an excellent display of pixelling and animation.

Other great emoticons posted recently
</u>

















:thumb138891758:


:thumb138519440:


Caption contest
</u>

When we re-launched the
WeEmote
account we mentioned setting up a caption contest and after a few delays, it has finally been launched!
This is a quick and fun contest in which you have to come up with a caption for the emotes placed in the artists comments. You have until October 8 at 11:59 PST to enter and this time around there is an added bonus of a
1 month sub
for the winner!

Emotes on dAmn
</u>

The Zikes site has been down a number of weeks now causing an issue if you wish to easily use any newly created emoticons within dAmn, the dA chats. To get over this problem there are ways to use alternative scripts in which you can manually add new emotes for easy use.
To summarise the 2 methods i created a guide to emotes on dAmn. If your interested, you can find a copy here:
:thumb138795497:

Noticeboard
</u>

- This news article may be only on issue 49, but next week it will mark one full year since the news article began

if you have any ideas on ways to celebrate let me know

- The next interview in the So i herd u liek interviews?? series was released this week, this time featuring the awesome
Marc-pHX
. If you missed it first time round you can find a copy
here
- The latest copy of the OC interviews also came out this week. The featured OC this time around was Peeny so be sure to check it out in
this news article
- Speaking of interviews,
EmoteCentral
posted their second interview this week featuring
admx
. If you're interested, check it out
here
- This week also marked the end of September and with that the release of Septembers DD summary. For a reminder of all teh emote DDs in the past month take a look at
this page
-
nillemotes
posted a great journal summarising a number of useful scripts for dAmn. If you're interested you can check it out
here
- The winners of the Getaway contest were also announced in
this journal
. Be sure to take a look and congratulate the winners.
- The deadline for
Emoticiety
's avatar contest has now been extended to the 25th October. For a full list of details check out
this page
- A new emote has been added to the emote legend for use throughout dA.

can now be produced by typing the code :groups:
- The official emoticomic contest has now drawn to an end. The judging is nearly complete so keep an eye out for the winners announced soon!
- Another great EmoteGames was held in
#WeEmote
yesterday. It seems alot of fun was had so keep tuned for the winners news article and make sure you devwatch
WeEmote
for more chat related updates


Previous volumes
</u>

Volumes 1-40
Volume 41
- 9th August
Volume 42
- 14th August
Volume 43
- 23rd August
Volume 44
- 30th August
Volume 45
- 6th September
Volume 46
- 13th September
Volume 47
- 20th September
Volume 48
- 27th September
Interviews 1-10
Interview 11
-
Kermodog
- 12th June
Interview 12
-
Mr-Jaunty
- 24th June
Interview 13
-
de-Mote
- 12th Aug
Interview 14
-
madb0y
- 27th Aug
Interview 15
-
Synfull
- 3rd September
Interview 16
-
Sinister-Starfeesh
- 16th September
Interview 17
-
Marc-pHX
- 30th September