95 Favourites
70 Comments
1K Views
Welcome to this week's volume of so we heard you liek emotes. This is the 42nd volume in a weekly series aimed towards promoting emote and emoticonists from the dA community. It features emotes posted within the past week from both well known and new emoticonists, as well as featuring some other great emote projects and contests.
The article is normally posted on a Sunday but due to me going away for the weekend and travelling home Monday/Tuesday it's a lil bit early


Featured Emoticons:
</u>

1.

Its quite easy to see why I chose to feature Harmonies by
CookiemagiK
. The whole concept is amusing with great animation to make an adorable emote
2. :thumb133204003:
The animation for CAN'T GET THAT APPLE by
Kermodog
may be simple but its very effective. The shading of the tree is also stunning and the whole emote runs smoothly throughout
3.
Its not always easy to create a emote for use when your annoyed but urrlystarting2annoyme by
capncraka
really nails it. Its nicely shaded and the choice of expression combined with the great animation make this a useful emote to use in conversation.
4.

There's something quite adorable about Roll Bounce by
ROBlNHOOD
. The animation is flawless to create an emote you can watch bounce and roll all day.
5.

Little Teapot by
Weiwa
is a cute little pixelled scene. It's nicely laid out with great shading and adding a face to the teapot is a brilliant touch.

Other great emoticons posted recently
</u>

:thumb133043237:

:thumb133017235:


:thumb132975878:



:thumb133280318:


:thumb133190267: :thumb133284683:

:thumb133076382: :thumb133205579: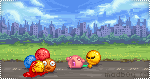 :thumb133134637:
:thumb133213690:







Forums
</u>

From a journal earlier this week I discovered a good number of people don't know about the gallery forums we have here on dA. They can be locate via the
forum
page by licking the top left button saying 'categories' then looking at 'galleries'
The
emote forum
has been dormant for some time now and I've been looking at a way of trying to use it in a positive way within the community. This week I launched 2 threads that I hope will be of use.
The first is aimed at offering information on how to remove coloured backgrounds from emoticons using a range of programs and tools. As I'm not familiar with most programs I'm looking for your input. If you have any to add then check out
this page
The second is aimed at gathering a database of emoticonists characters which the owner allows to be used within other people's work. Hopefully this will cut out the need to ask if its ok to use your character if someone wishes to make a emoticon with it. It also offers a space to give a lil more info o your character if you wish. If this sounds interesting then take a look
here
Feel free to check out the rest of the
emoticon forum
and even create your own threads if you wish. I also suggest you tae a browse through some of the other galleries forums to see what you can uncover


Featured projects
</u>

Soccer Team Project
I always enjoy seeing what emoticon projects deviants can come up with and its great to see some of the unique ideas.
NinjuhBunneh
has launched a project based on creating emotes in their own soccer (football

) strip to add to the background. It looks like it could be a great project so go check it out
100 jar challenge
Although not specifically a emote project, the 100 theme challenge was another project launched this week. It aims to fill 100 bottles with different items. After seeing the latest craze in bottle avatars this seems like a great project, so grab a template and get entering

Noticeboard
</u>

- I recently posted a journal promoting some of the emote clubs within our community. If you missed it first time you can check it out
here
- Last Sunday a trivia event was held within our chatroom
#WeEmote
. The feedback I have had from this is great and check out
this article
for features from the event.
- We are now opening the
EmoticonOpus
account up to allow other people to run the contests. If your interested and would like to sign up for a turn at some point please give
koffeeben
or myself a note. For more info check out <a href-"
emoticonopus.deviantart.com/jo…
">this journal
- The opus is currently running a contest with the theme 'whores'. Its set to be a great contest, so take a look
here
for more info
-
Emoticiety
is launching a new emote related news article later this week. Definitely keep an eye out for it.
- The latest edition of so I herd u liek interviews?? was posted this week featuring
de-Mote
. You can grab a copy
here
if you missed it


Previous volumes
</u>

Volumes 1-35
Volume 36
- 15th June
Volume 37
- 21st June
Volume 38
- 28th June
Volume 39
- 4th July
Volume 40
- 2nd August
<a href="
synfull.deviantart.com/journal…
>Volume 40 - added features
Volume 41
- 9th August
Interview 1
-
CookiemagiK
- 15th January
Interview 2
-
Cmotes
- 30th January
Interview 3
-
MenInASuitcase
- 12th February
Interview 4
-
Red-Bananas
- 27th February
Interview 5
-
LeoLeonardo
- 12th March
Interview 6
-
MixedMilkChOcOlate
- 28th March
Interview 7
-
blunaowl
- 14th April
Interview 8
-
Droneguard
- 28th April
Interview 9
-
Krissi001
- 14th May
Interview 10
-
Waluigi-Prower
- 28th May
Interview 11
-
Kermodog
- 12th June
Interview 12
-
Mr-Jaunty
- 24th June
Interview 13
-
de-Mote
- 12th Aug