63 Favourites
52 Comments
1K Views
Welcome to this week's volume of so we heard you liek emotes. This is the 41st volume in a weekly series aimed towards promoting emote and emoticonists from the dA community. It features emotes posted within the past week from both well known and new emoticonists, as well as featuring some other great emote projects and contests.

Featured Emoticons:
</u>

1. :thumb132168197:
:Helicopter-glomp: by
Kermodog
offers a fun and unique take on the glomp animation with great shading and animation
2.
Nuke by
Misterstix66
is a great static emote with a brilliant idea and nice use of facial expression.
3.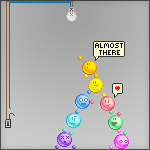 I adore How many by
Detail
as it's a great use of facial expressions and emoticons within a comic situation
4.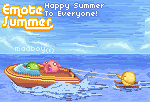 Waterski by
madb0y
displays a great use of water effects and animation to make a cute and well designed emoticon.
5.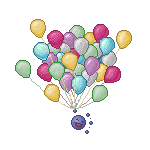 helium by
Weiwa
is a cute use of simple but effect animation and ice stading to make a great looking emote

Other great emoticons posted recently
</u>



:thumb132599872:


:thumb132344535:

:thumb132278674: :thumb132277374:


:thumb132198934:


:thumb132086922: :thumb131944243:












Questions
</u>

From time to time I see people asking questions or come and ask me questions and I felt I'd come answer some of them here. If you ever want to ask me something be sure to drop me a comment/note or catch me in one of the chats.
Q. Does the newly released portfolio feature support emoticons?
A. Unfortunately no. The minimum size requirement for a portfolio image is 400x400 pixels.
Q. Will portfolio be altered to allow emoticon submissions?
A. The likely answer for this is no. A portfolio is most commonly used to display artwork to be seen by schools/clients. Emoticons aren't really designed for this purpose and therefore aren't and wont be accepted in portfolios. However, the emoticon dictionary is in a sense an emoticonists version of a portfolio, so if you wait a lil while till that feature is up and running it will be clearer why emoticons do not need to be placed in portfolios.
Q. Which is the best program for me to use for emoticons?
A. The honest answer is there isn't one. Each emoticonist has there own likes and dislikes and it's about finding a program you like and working with it. The most commonly used programs are fireworks and photoshop/imageready. Where as both of these are excellent programs, they do have to be purchased. Therefore an alternative is to use free programs such as GIMP and MS Paint. However I suggest you experiment. Just because one is the most commonly used program doesn't automatically mean you will enjoy using it. For more info on free programs and trials check out
this page

Featured project
</u>

:thumb132708037:
This weeks latest emoticon project launched is the Nursery Rhyme Project. To enter simply create a nursery rhyme themed emote within the base provided and submit it to the project. The project is currently looking a lil empty, so get some entries in

Credit
</u>

I've decided to add an extra section in this week as its something I want to talk about sooner or later. For as long as I can remember there have been people adapting emotes and submitting them for use on dAmn. Many of these use the originals within then and others base them on existing emotes.
As for the exact policy on these, I am not sure. In theory they can be seen as art theft as they use the original emoticon often without permission from the creator. I don't want to either encourage or discourage the creations of these adaptations unless a member of dA staff asks me to do so, however I will bring up something I can mention.
One thing that I feel should be changed is the lack of credit within the descriptions of these emotes. If you are using a stock image in a photomanipulation you must credit the stock providers and I feel it is the same with emotes used within emoticons. It doesn't take much to say 'based on [link] by ~deviant' but it does make a big difference. I also would like to see people requesting permission for use of emoticons if the creator is still active online. I know as an emoticonist I'm more than happy to let people use things if they ask first as it's a compliment for my work, but using things without permission I find quite rude.
I know many are great with crediting but I have seen quite a few new and some older emoticonists not doing so, and I'd like to address this sooner rather than later.

Noticeboard
</u>

- I hope you all enjoyed the birthday celebrations. I apologise for not organising an emote related event/contest but due to my time out the country + us loosing our second GM it meant I missed the deadline. However if I'm still around next year I will certainly look at organising something

- A new volume of my news article So I herd u like interviews?? should be out within the next week or so depending on my net access

- A emote trivia/contest event was held earlier today by
madb0y
in our dAmn chatroom
#WeEmote
. The features from the event can be seen
in this article
- I would also like to congratulate
Krissi001
for gaining her senior status in the latest batch of seniors announced.
- The results for the latest set of emoticon revamps can be found on
this page
. Congrats to the 4 winners.
-
Emoticiety
made a change to their submissios policy this week. For more info, check out
this journal
- A new club was recently launched by the name
pixelacademy
with the aim of supporting deviants interested in developing their emote and pixel skills. If you sound interested definitely go take a look.


Previous volumes
</u>

Volumes 1-30
Volume 31
- 10th May
Volume 32
- 17th May
Volume 33
- 24th May
Volume 34
- 31st May
Volume 35
- 7th June
Volume 36
- 15th June
Volume 37
- 21st June
Volume 38
- 28th June
Volume 39
- 4th July
Volume 40
- 2nd August
Volume 40
- added features
Interview 1
-
CookiemagiK
- 15th January
Interview 2
-
Cmotes
- 30th January
Interview 3
-
MenInASuitcase
- 12th February
Interview 4
-
Red-Bananas
- 27th February
Interview 5
-
LeoLeonardo
- 12th March
Interview 6
-
MixedMilkChOcOlate
- 28th March
Interview 7
-
blunaowl
- 14th April
Interview 8
-
Droneguard
- 28th April
Interview 9
-
Krissi001
- 14th May
Interview 10
-
Waluigi-Prower
- 28th May
Interview 11
-
Kermodog
- 12th June
Interview 12
-
Mr-Jaunty
- 24th June