So i herd u liek emotes?? - Volume 21
74 Favourites
69 Comments
1K Views
Welcome to this week's volume of so we heard you liek emotes. This is the 21st volume in a weekly series aimed towards promoting emote and emoticonists from the dA community. It features emotes posted within the past week from both well known and new emoticonists, as well as featuring some other great emote projects and contests.

Featured Emoticons:
</u>

1.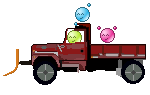 I really wish this deviation was real. Miscat Mobile by
trezoid
is an amusing idea based on the idea of tackling the large number of miscats that go through the gallery each wee. As always I love to see vehicles mixed with emoticons as they are not always the easiest element to draw or animate. Overall this is a excellent emote with simple but effective animation and cute looking emotes
2. :thumb114177558:
Explosions are another effect that are not always easy to pixel, but they are really shown well in :minefieldbounce: by
Kermodog
. The animation is very smooth and the explosion is very impressive. The movement of the emotes hands when in the air is also created well to give a sense of speed and gravity to the emoticon.
3.

If guardian angel by
BlueKecleon
is their first emote, I look forward to seeing their next. The wings of the emote are really what caught my eye in this image. They are well pixelled and smoothly shaded. The shadow effect is a great addition as it enhances the floating feel to the emote. Overall is a brilliant all round emoticon and I can't wait to see what they might come up with next.
4.

Sword fight by
madb0y
is another emoticon that caught my eye this week. I am always interested in how different emoticonists create fight scenes and this one particularly impressed me. The animation is quite short, however the excellent looping of animation really give the illusion there are more frames to the emoticon. The swish effect from the swords is excellently pixelled and the shadows really enhance the movements of the emotes. The shading of the emoticons is also excellent, making this a great all round emoticon.
5.

Emoticons don't always have to be large and fancy to make them impressive to watch. This is definitely shown in :inflate: by
MixedMilkChOcOlate
The animation is simple but very effective. The way the emote enlarges is a really great effect and adds to the overall idea. The whole emoticon is rather cute great to sit and watch.

Other great emoticons posted recently
</u>

:thumb114383351:

:thumb114405329:






:thumb113837081:












Copyright issues
</u>

When making an emoticon, you need to ensure that you have permission for any elements used that are not of your own work. This includes both images off google and emoticons from the dA legend. With the recent addition of the emoticon stressballs added to the dA store, there have been a number of fan art pieces submitted containing the dA legend versions of the emotes themselves. If you use the original copies you run the risk of having your deviation deleted as they are not your original work. I know that gaining permission for use of dA legend emoticons is not always easy due to the fact many of the emoticonists have left the site, however there are ways around issues, for example creating your own revamp of the emoticons. I have also recently seen a couple of emoticons that contain images off google. Again this can cause issues with copyright and may result in having the emoticon deleted.
I don't personally delete the violations, so I am not able to say whether something will or will not be deleted. However, I do dislike seeing emoticonists upset when emotes are deleted for this reason due to a lack of knowledge. So please watch out for what you use within emoticons and make sure you have permission to use parts which you did not create yourself.

Featured tutorials
</u>

-
- Basic dA Emote tute for GIMP - by
MissLittlewood
-
- More advanced emotes for GIMP – by
popcorn-pops

Noticeboard
</u>

LeoLeonardo
has started a new emoticon news article series called
Chance to shine
. It aims to help promote some of the newer emoticonists from the community. It sounds like an excellent new set of articles and I look forward to seeing the next volume.
The lastest edition of 'So I herd u liek interviews??' was posted during the week. The emoticonist for this volume was
Red-Bananas
. If you missed it and would like to check it out, it can be found
here
Last week I took part in a live interview about emoticons in
#askandshare
. If you like to see a copy of the interview, it was posted in
this article
If you want to have a look back at the emote DDs from February, they have been posited together in an article
here


Previous volumes
</u>

Volume 1
- 12th Oct
Volume 2
- 19th Oct
Volume 3
- 27th Oct
Volume 4
- 2nd Nov
Volume 5
- 9th Nov
Volume 6
- 16th Nov
Volume 7
- 23rd Nov
Volume 8
- 30th Nov
Volume 9
- 7th Dec
Volume 10
- 14th Dec
Volume 11
- 21st Dec
Volume 12
- 28th Dec
Volume 13
- 4th Jan
Volume 14
- 11th Jan
Volume 15
- 18th Jan
Volume 16
- 25th Jan
Volume 17
- 1st Feb
Volume 18
- 8th Feb
Volume 19
- 15th Feb
Interview 1
-
CookiemagiK
- 15th January
Interview 2
-
Cmotes
- 30th January
Interview 3
-
MenInASuitcase
- 12th February
Interview 4
-
Red-Bananas
- 27th February