So i herd u liek emotes?? Volume 15
44 Favourites
39 Comments
684 Views
Welcome to this week's volume of so we heard you liek emotes. This is the 15th volume in a weekly series aimed towards promoting emote and emoticonists from the dA community. It features emotes posted within the past week from both well known and new emoticonists, as well as featuring some other great emote projects and contests.

Featured Emoticons:
</u>

1.

:throwknifes: by
Cmotes
is a great emoticon to start of this week's article. The animation is very smooth and the shading is nicely done. The movement of the screen going from side to side is also created very well, making this a all round excellent emote with an original idea.
2.

I have been rather obsessed with this emoticon ever since it appeared in my inbox. Creating a chewing action is never easy, but
SwissCheesy
has pixelled it perfectly in :cookieplz:. The combination of a great action and cookies has made this one of my favourite emoticons from the week and earned it a place in the featured emoticon.
3.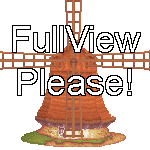 :windmill: by
LeoLeonardo
is on of the most detailed emoticons submitted this week. The pixelling of the windmill is exceptional and the addition on the emote makes it a rather amusing emoticon. Its definitely worth taking a look and don't forget to download for the full emoticon.
4.

:scare: by
TheRockster
is one of the cutest emotes I saw this week. The shading of the emoticons is very good and the background is simple but very effective. The scare factor of the emoticon actually made is rather amusing and the animation of the walking is very smooth and unique, giving it a place in this weeks featured emotes.
5.

Although original idea emotes are great to look at, its nice to see people revamping some of the original dA emotes from time to time :confusion: by
forestsofazarath
is a brilliant revamp of

. The emotes face and movements really express the idea of confusion and although text is unusual in an emote, it really adds to the effect, making this a great revamp.

Other great emoticons posted recently
</u>


:thumb109763633:


:thumb109436916:
:thumb109239042:


:thumb109670123:





Featured tutorial
</u>

and
by
ChaosEmeraldHunter

Emotication
</u>

Earlier this week a new emote based club was launched under the name of
Emotication
. The club is designed to supply emoticonists with a list of tutorials, knowledge and useful information on anything related to emoticons.
The club is now fully up and running. Some additional work is still needed, but for the most part is now functioning. It is definitely worth checking out and if you feel you could lend a hand, there is a list of places in need of assistance in the journal. Below are some links directly to some of the pages
-
FAQ
-
tutorial list
-
base packs

Noticeboard
</u>

I apologise for last week's article stating
Momma--G
's contest ended later in this month, as the finish date was pushed forward to the 15th of Jan. The contest has now finished and the results can be found
here
. Please take 5 minutes to go congratulate the winners.
As promised, the first 'so I herd you like interviews??' article was posted this week. The interview was with none other than
CookiemagiK
and a copy of it can be found
here
The shortened version of the bucktooth code :B has now been added to the legend as is available for use all over the site

.
(Info passed on from Waluigi-Prower)

Notes
</u>

If you would like to suggest a project, emote or emoticonist to be featured please leave me a note on my
Synfull
account. I am also looking for more questions and tutorials to be featured, so any suggestions are welcome . Tutorials do not have to have been submitted in the week of the news article.


Previous volumes
</u>

Volume 1
- 12th Oct
Volume 2
- 19th Oct
Volume 3
- 27th Oct
Volume 4
- 2nd Nov
Volume 5
- 9th Nov
Volume 6
- 16th Nov
Volume 7
- 23rd Nov
Volume 8
- 30th Nov
Volume 9
- 7th Dec
Volume 10
- 14th Dec
Volume 11
- 21st Dec
Volume 12
- 28th Dec
Volume 13
- 4th Jan
Volume 14
- 11th Jan
Interview 1 - cookiemagik
- January