Welcome to this week's volume of so we heard you liek emotes. This is the 14th volume in a weekly series aimed towards promoting emote and emoticonists from the dA community. It features emotes posted within the past week from both well known and new emoticonists, as well as featuring some other great emote projects and contests.

Featured Emoticons:
</u>

We seem to have a large number of excellent emotes posted this week. I really struggled to choose which ones to put under the featured area as there were just so many to pick from.
1. :thumb108904133:
I couldn't resist selecting Cake Bomb by
Kermodog
as one of this weeks featured emotes. The animation is extremely detailed and well executed. It contains several great effects including 3D rotation, explosions and swallowing. The idea is very unique and well pulled off, making it a must see emote
2.

Its not always easy using emotes that aren't the average size, but trouble by
Krissi001
is a fine example of it. I love how the emotes bounce as the larger emote walks across the floor, showing great attention to details. Its well animated and a great idea that creates an all round excellent emote.
3.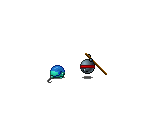 Its not very often that an emote leaves me speechless, but Ninja Vs Pirate by
CookiemagiK
is one of those emoticons. There are so many excellent effects in this emote that I really don't know where to look. I think I will just allow the emoticon speak for itself, as I don't think I can sum it up with a few sentences.
4. :thumb108728159:
sad by
Yoshiko-86
expresses the emotion of sadness really well. The emotes expression is brilliant, and the rain droplets well animated. The fact the emote is slightly squished really enhances the mood of the emoticon and earns it a place in the featured section
5.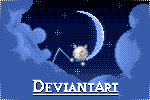 Recently there has been an increase in emoticons featuring backgrounds, and DreamArt by
MixedMilkChOcOlate
falls into this category. The whole emote is excellently pixelled with a very simple but very cute central focus, making it this weeks 5th featured emoticon.
6.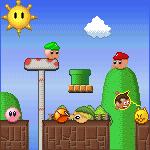 super smash bros emote is another brilliant emoticon submitted this week. Its not always easy to make emoticons look like existing characters but
MenInASuitcase
has done this very well. The animation is great and the background is also brilliant, and definitely worth a closer look.

Other great emoticons posted recently
</u>




:thumb108930736:




:thumb108813453:





Featured tutorial
</u>

- Colour shift tutorial – by
zikes

- shiny emote shading – by
Bad-Blood

Featured project
</u>

This week also saw the launch of a new emote project.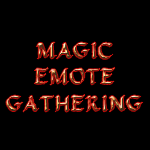 The Magic Emote Gathering Project hosted by
Oktanas
is the start of a great project. It has a brilliant setting and accepts both animated and static, so well worth checking out

Noticeboard
</u>

Momma--G
is holding a contest to bridge the friendship between emotes and smilies. You have until the 31st Jan to enter, so if your interested, check out
this Journal
Following up from last weeks notice, a club to help tackle miscats within dA has now been set up. Please go check out
Miscat-Busters
if you get the chance, and offer to help if you feel you are able to.
I am planning on setting up an account designed to help out emoticonists, especially those who are just joining out community. The account will have links to a number of different tutorials and resources, as well as a list of current projects and contests. However, I have asked for some help when deciding a name, so please check out
this poll
to vote.
After much rumours, I am proud to announce that the first So I herd you like emotes?? interview article will be launched later this week, so watch your inboxes


Notes
</u>

If you would like to suggest a project, emote or emoticonist to be featured please leave me a note on my
Synfull
account. I am also looking for more questions and tutorials to be featured, so any suggestions are welcome . Tutorials do not have to have been submitted in the week of the news article.


Previous volumes
</u>

Volume 1
- 12th Oct
Volume 2
- 19th Oct
Volume 3
- 27th Oct
Volume 4
- 2nd Nov
Volume 5
- 9th Nov
Volume 6
- 16th Nov
Volume 7
- 23rd Nov
Volume 8
- 30th Nov
Volume 9
- 7th Dec
Volume 10
- 14th Dec
Volume 11
- 21st Dec
Volume 12
- 28th Dec
Volume 13
- 4th Jan