Welcome to this week's volume of so we heard you liek emotes. This is the 13th volume in a weekly series aimed towards promoting emote and emoticonists from the dA community. It features emotes posted within the past week from both well known and new emoticonists, as well as featuring some other great emote projects and contests.

Featured Emoticons:
</u>

1.

There's no better way to start off a new year than a new years based emoticon. Although the shading in New year bounce by
Rebel2206
is quite basic, that shouldn't detract from the emoticon itself. The animation is smooth and the expression on the emotes face makes it very cute. It's a great way to launch off 2009.
2. :thumb108186805:
With the whole year ahead of us, you can take a quick trip through all the seasons in Seasons by
Jarno-A
. It contains a nicely shaded emote and some cute ideas as an emote takes a short trip through the year. Let's hope the weather wherever you are doesn't change that quickly.
3.

Travel the world by
MenInASuitcase
is a very nice simple emoticon. The animation is smooth as always and the concept is very unique. It's well created and puts a great spin on the idea of travelling the world.
4.

I often feel I don't feature enough smilies in this article. Although slightly less common to be used on dA, they still deserve recognition amongst the community. This is certainly the case with V Day test 2 by
Momma--G
. The wing animation is very smooth and the hair and face is nicely shaded. The bow is well pixelled and if this is just a test, I can't wait to see the finished smiley
5.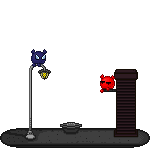 This week's 5th featured emote is clown vs venom by
Emoticlown-ist
. There are so many great effects in this emote. It's very well animated and creates a great fight scene between the two emotes. The way they move around the lamppost is especially nice to look after, creating a brilliant all round emote.
6. :thumb107761131:
Fun fight by
UzumakiSlumpBallZ
was suggested for this article earlier this week and I have to agree with the deviant that its should be included. The animation is top notch and the shading of the emotes is faultless. There are some great movements in it, which when put together makes a very cute and amusing fight between the emotes.
Seggested by clubhouse-1992

Other great emoticons posted recently
</u>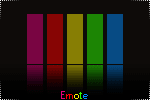 :thumb108075574:


:thumb108050803: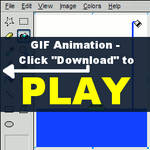 Community images
</u>

I really admire our community at times, especially when I see images people have created which involve the characters of many emoticonists from DA. Below are some of the few I have found, and I felt it would be nice to feature them
by
MixedMilkChOcOlate
by
de-Mote
and
Shicken05
by
BubbleRevolution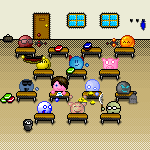 by
MenInASuitcase
and
by
Synfull

Questions
</u>

Q: Is there a difference between an emote and a smiley?
A: Generally on DeviantART, people use the two terms to describe different types of bases used. An emote is normally 15x15 pixels and can be any colour, where as smilies are generally larger and most commonly yellow in colour.
Smiley -->

<-- Emotes
Q: Are there any free programs which I can use to create emotes?
A: yes. There are programs such as
GIMP
which are free to download, and through the use of layers can create animations.

Noticeboard
</u>

The interview with
CookiemagiK
will hopefully take place some time in the near future. Remember, you can send me questions for the interview if there is anything you'd like to ask. Just drop me a note.
The emotes took part in a great
New Years party
to celebrate the new year. Unfortunately I didn't hear about it until after the last article, but its still worth checking out whart the emotes got up to.
Momma--G
is holding a contest to bridge the friendship between emotes and smilies. You have until the 31st Jan to enter, so if your interested, check out
this Journal
Cmotes
wrote a
journal
about miscats which is worth reading. He is also looking at setting up a group to help educate people on miscats, so if you feel you can help out, send him a note. As many of you know the emoticon gallery often gets clogged up with non-emote deviations, so a group like this could really help.

Notes
</u>

If you would like to suggest a project, emote or emoticonist to be featured please leave me a note on my
Synfull
account. I am also looking for more questions and tutorials to be featured, so any suggestions are welcome . Tutorials do not have to have been submitted in the week of the news article.


Previous volumes
</u>

Volume 1
- 12th Oct
Volume 2
- 19th Oct
Volume 3
- 27th Oct
Volume 4
- 2nd Nov
Volume 5
- 9th Nov
Volume 6
- 16th Nov
Volume 7
- 23rd Nov
Volume 8
- 30th Nov
Volume 9
- 7th Dec
Volume 10
- 14th Dec
Volume 11
- 21st Dec
Volume 12
- 28th Dec