Welcome to the latest volume of so i herd u liek emotes??. This is the 122nd volume in a fortnightly series aimed towards promoting emote and emoticonists from the dA community. It features emotes posted within the past few weeks from both well known and new emoticonists, as well as featuring emote projects, contests and news.
Featured Emoticons
1. :thumb243644466: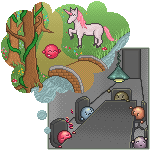 I found
litecrush
and
Indae
's entry to the 'Opposites' themed collab event a really interesting twist on the theme. Both sides have been nicely pixelled with a clever link between them to make a single great piece of work.
2.

I just love how
ROBlNHOOD
has managed to animate a range of different water themed items into H2O in one fluent emoticon. Each has a great feel to it and some of the special effects really shine through
3.

Character emotes aren't always easy to master, but
SparklyDest
has done a pretty good job with Emote Spock. There's enough detail crammed into the little emote to give is a very distinct Spock feel, right down to his expression.
Other great emoticons posted recently

:thumb238981394:






:thumb243435104: :thumb229542093:


:thumb227523477:


:thumb227125511: :thumb221912612:



:thumb217754113:


:thumb217561551:



:thumb217474894:




Emote Teams
Mirz123
has started up a new concept in our community of Emote Teams. You sign up and are assigned a small team of emoticonists to get to know and work with in a variety of future events. The first set of teams have now been created and you can find a list
here
. Is not too late to sign up though and be added to a team at the next suitable time slot.
A new group
emoticon-clubhouse
has also been set up as a submission and information point for Emote Teams. It is invited only so if you have already joined a team and not received an invite, let
Mirz123
know. If you have accepted your invite, be sure to read the club house
information
on behaviour, reassignments and submissions
Guest Section
This volume's guest section has been compiled by the awesome
Indae
~~~~~~~~~~~~~~~~~~~~~~~~~~~~~~~~~
More often than not some really awesome emoticons are hidden behind previews! So here's a selection of emoticons with previews, that a suggest you take a closer look at..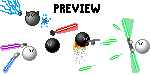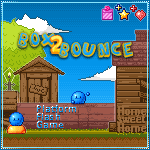 :thumb108904133: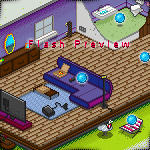 Legend news
This week dA has announced some up and coming changes to the Emoticon Legend. The general concept is to replace the existing list with a new system which allows any chat friendly emoticon in the dA galleries to be used anywhere around the site.
You can read the official
hq
journal
here
or my personal journal (with more emoticonist-friendly terminology)
here
dA are interested in hearing your thoughts and suggestions for category names. So take a read through the article and let them know.
Noticeboard
- There is 1 day left to get in your final entries for round 3 of he emoticon pageant. More information on
this page
- The winners of the latest opus contests were recently announced. You can find the results
here
. Stay tuned for a new opus soon.
- The lovely
BlissfullySarcastic
has recently been interviewed for the ABCs of deviants. You can find the interview on
this page
- The latest volume of Random Emote Awesomeness has also been posted this week. You can grab a copy
here
- The winners of Round 2 in
BlissfullySarcastic
's contest have also been announced and there is now 1 days left til round 3 closes. You can check everything out in
this journal
-
yarjor
has also been recently interviewed for the Emotiviews series. Be sure to have a read through it
here

Previous volumes
Volumes 1-117
Volume 118
- 29th May 2011
Volume 119
- 11th June 2011
Volume 120
- 24th June 2011
Volume 121
- 10th July 2011