Welcome to this week's volume of so we heard you liek emotes. This is the 12th volume in a weekly series aimed towards promoting emote and emoticonists from the dA community. It features emotes posted within the past week from both well known and new emoticonists, as well as featuring some other great emote projects and contests.

Featured Emoticons:
</u>

1.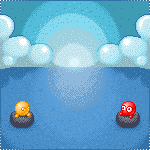 Emote sea fight by
MixedMilkChOcOlate
is a fine example of background use within an emote. The background is very detailed and extremely smooth which is matched by the animation that runs without a pixel out of place. The emote shows a range of different effects which are all created very well creating a great looking fight that loops perfectly.
2. :thumb107428822:
:oopssorryitsnotyourpresent: by
Kermodog
is just one of the seasonal emotes submitted this week. Its extremely smooth animation and amusing content really drew me into this emote. The present is well pixelled and the whole emote is great to look at, making it this week's 2nd featured emote
3.

E-mot
may have only been on this site a few days, but he is already getting well settle into the emote community. Out of his emotes submitted so far, E-mot is the real cooking mama has to be my favourite. The brilliant animation and emotes expression really enhance this emote. The chefs hat is well drawn and the shading is very smooth, earning this emote a placed in the featured section
4.

Where are you dude? By
MenInASuitcase
is this week's 4th featured emote. The animation is excellent as always and the concept is very original. The 3D element is done very nicely as well. Its also unusual to see a speech bubble in an emote, but it fits very well and really adds to an already great emote.
5.

The emotes in :hotkiss: by
Gomotes
don't seem to need any mistletoe to have a great time. The emote is nicely pixelled and shaded, with smooth animation. The heart after the kiss is nicely created and adds to the overall emote.

Other great emoticons posted recently
</u>


:thumb107255960:


:thumb107341689: :thumb107409595:

:thumb107096086:


:thumb106887707: :thumb107116762:

Feature tutorial
</u>

- emoticon eyes tutorial by
MenInASuitcase

Featured Contest
</u>

Momma--G
is holding a contest aimed at building a relationship between smiley creators and emoticonists. All entries must include both an average sized emote and a smiley. The contest has already begun and ends on 31st January. It's well worth checking out. All info and rules can be found
here
And for those who have never made a smiley before, there is the offer to use a pack such as
this
to help


Noticeboard
</u>

The icon interlude contest results were announced on Christmas eve. Congratulations to all the winners. A list of entries and winners can be found
here
The advent calendar project has also finished. Thank you to all who took part, and if there's enough interest, it may run again next year
The interview with
CookiemagiK
will hopefully take place some time in the near future. Remember, you can send me questions for the interview if there is anything you'd like to ask. Just drop me a note.
I'd also like to wish you all a happy new year, and I hope 2009 witll become a great year for emotes.

Notes
</u>

If you would like to suggest a project, emote or emoticonist to be featured please leave me a note on my
Synfull
account. I am also looking for more questions and tutorials to be featured, so any suggestions are welcome . Tutorials do not have to have been submitted in the week of the news article.


Previous volumes
</u>

Volume 1
- 12th Oct
Volume 2
- 19th Oct
Volume 3
- 27th Oct
Volume 4
- 2nd Nov
Volume 5
- 9th Nov
Volume 6
- 16th Nov
Volume 7
- 23rd Nov
Volume 8
- 30th Nov
Volume 9
- 7th Dec
Volume 10
- 14th Dec
Volume 11
- 21st Dec