Welcome to this week's volume of so we heard you liek emotes. This is the 11th volume in a weekly series aimed towards promoting emote and emoticonists from the dA community. It features emotes posted within the past week from both well known and new emoticonists, as well as featuring some other great emote projects and contests.

Featured Emoticons:
</u>

1.

As soon as I saw :droplet: by
SparklyDest
I knew I must feature it in this weeks article. Any long time read of the article will know that elemental effects such as water and fire fascinate me when done to an excellent standard such as this. The shading is brilliant and the animation is top notch. The emote is great from start to finish and I can't help but watch it over and over again.
2.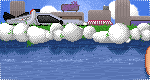 One skill that
MixedMilkChOcOlate
has definitely mastered is amazing background design. As shown in Not this time McFly, it is very well pixelled and creates a strong positive influence on the whole emoticon. The animation and design of the car is also very nicely done, creating an excellent emote all round.
3.

It snowed today by
The-Bloody-Fedora
is this week's 3rd featured emote. It fits in extremely well with the wintery weather and is a fine example of a seasonal emote. It contains a nice amount of humour and the snow is created very nicely, giving it a slot in this week's article.
4. :thumb106751520:
Spring2 by
Sneffy
has to be one of the cutest emotes I came across this week. The concept is very simple, but it's very well pulled off. The animation of the butterfly is done perfectly ad the smile on the emotes face can just make your heart melt. I can't find a way to fault this emote and I feel it should get a lot more exposure than it currently has.
5.

:lardgrinn: by
catluvr2
caught both mine and another deviants eye this week as it was passed to me as a emote to possible feature. As described by the suggestor 'It is just too great a play on words' and I must totally agree. Based on the original emote :tardgrinn: you can't help be laugh and smile when you see this adaptation and because of that, it must be granted a place in this week's features.
Suggested by SparklyDest
6.

I truly lost count of the number of great effects displayed in 'how I sux at skateboarding' by
Emoticlown-ist
. The way the emote is created and displayed really gives the feeling that you are watching a skateboard attempt some moves. The video footage contains some rather amusing bails and some very well animated camera effects such as rewinding and slow mo. It is very nicely put together, creating a brilliant loop of animation

Other great emoticons posted recently
</u>

:thumb106796255:

:thumb106338298:


:thumb106527795:


Feature project
</u>

This week's featured project is by the Christmas tree Collab organised by
Zagittorch
. It is a project both for pixel artists and emoticonists. This tree needs dressing up for Christmas, and for that we need your help. Create an item to go on the tree or a present to be placed underneath to help bring some Christmas spirit to the collab. Its well worth checking out, and if you don't wish to enter please go and support it


Christmas feature
</u>

I said in one of the previous articles I would do a feature on any Christmas related avatars that I receive links to. I only received the links to two, so I decided to feature those and any from the Christmas avatar collab I could find. So please go check out some of the deviants and wish them a merry Christmas






















Interviews
</u>

You may have heard me mentioning the rumour of starting up a set of interviews in the new year. I am pleased to say that the preparation for this is well under way. The first interview will be launched in January and be with none other than
CookiemagiK
!
This was going to remain a secret, but it has been suggested that you might like to get involved. I am looking at collecting a set of guest questions from the news article readers. If you have an emote related question that you would like to ask
CookiemagiK
then please send me it in a note, and I will pick the best ones and ask them during the interview! So get those brains working and send any good ones in

I'd also like to ask you to go give some hugs to
Marc-pHX
,
Red-Bananas
and
zikes
for all the help they have given me to help get this idea started.

Noticeboard
</u>

The icon interlude contest has now closed – winner's to be announced on Christmas eve

The
advent calendar
is nearly complete, but please continue to check it out

We haven't got much news

If you have any emote related news, don't be afraid to note me with some info so I can put it up here
I'd also like to take the chance to wish you all to have a very Merry Christmas and a Happy new year. Thank you for your continued support with the news article, and I hope 2009 is a brilliant year for emotes.


Notes
</u>

If you would like to suggest a project, emote or emoticonist to be featured please leave me a note on my
Synfull
account. I am also looking for more questions and tutorials to be featured, so any suggestions are welcome . Tutorials do not have to have been submitted in the week of the news article.


Previous volumes
</u>

Volume 1
- 12th Oct
Volume 2
- 19th Oct
Volume 3
- 27th Oct
Volume 4
- 2nd Nov
Volume 5
- 9th Nov
Volume 6
- 16th Nov
Volume 7
- 23rd Nov
Volume 8
- 30th Nov
Volume 9
- 7th Dec
Volume 10
- 14th Dec