Welcome to this week's volume of so we heard you liek emotes. This is the 10th volume in a weekly series aimed towards promoting emote and emoticonists from the dA community. It features emotes posted within the past week from both well known and new emoticonists, as well as featuring some other great emote projects and contests.

Featured Emoticons:
</u>

1.

:snowballs: by
LeoLeonardo
is an example of emoticoning at its best. There idea behind this emote is brilliant, and every movement is well executed. It creates a real feeling of pausing time when the first snowball is thrown, and the animation of the red emote's hand is smooth and nicely pixelled. There is an amazing emote and perfect to go with this time of year
2 . :thumb105702683:
I always say that animating elemental powers can be extremely difficult for an emoticonist, but
UzumakiSlumpBallZ
has done it amazingly well in Fire Vs Electric. All the effects are very nicely pixelled and the animation is very smooth. The emote loops very well and leaves you able to sit and watch it over and over again
3. :thumb105686435:
:secret poke: by
Shicken05
is this weeks 3rd featured emoticon. The shading of the emotes is excellent and the animation is brilliant. The idea is very amusing and carried out extremely well. When all the elements come together, it creates a very funny and useful emoticon .
4.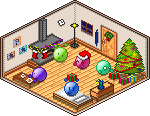 The scene in
MenInASuitcase
's Christmas Party at Home is buzzing with activity. Each emote in is very unique, but animated just as nicely as each other. It really sums up what can happen at a Xmas party, and the expression and motion of each is brilliant. The background is also very well drawn, creating a great emoticon all round
5.

The emoticon gallery has seen a surge in high quality emote this week and :polevault: by
DEIDATVM
is no exception. The idea is very unique, and the 3D element in is excellently carried out. The whole emote runs very smoothly and you can't help be laugh when you see the yellow emote walk off the screen. For this reason, it is this week's 5th featured emote

Other great emoticons posted recently
</u>






:thumb106318015: :thumb106243143: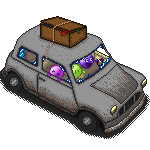 :thumb105763301:



Feature tutorials
</u>

- complete emoticon guide part 2 by
LeoLeonardo
- explosion tutorial 2 by
Bad-Blood

Christmas feature
</u>

There hasn't really been much happening project wise in the emoticon gallery recently. Therefore I decided to do a feature on Christmas based emotes from any year



:thumb27004571:



:thumb70402298: :thumb72350209:

Noticeboard
</u>

It's the last few days before The
Icon Interlude Contest
ends (17th Dec) so if your considering making an entry, you better get it in quick.

has now been added to the official emoticon legend

Notes
</u>

If you would like to suggest a project, emote or emoticonist to be featured please leave me a note on my
Synfull
account. I am also looking for more questions and tutorials to be featured, so any suggestions are welcome . Tutorials do not have to have been submitted in the week of the news article.


Previous volumes
</u>

Volume 1
Volume 2
Volume 3
Volume 4
Volume 5
Volume 6
Volume 7
Volume 8
Volume 9