Sydney|She/her|Hetrosexual
..........
..........
I'm not really all that interesting. I am a 14 year old girl who sits in her room most of the time and loves to eat tacos and noodles. I currently use a Wacom Intuos Pro tablet to draw and Paint tool SAI is my art software. I spend most of my time online and this should seem like no surprise. I love my cat to death, her name is Samfris and she is my baby. I prefer to hang around guys at my school because the girls are just a walking drama magnet. I'm trash
I watch the following youtube channels daily, they are my drug; Jacksepticeye, Gamegrumps, and Markiplier. They are not listed in any particular order.
I hate bad grammar, it takes a huge amount of will power not to correct. If i do happen to correct you please don't hate me. It's instinct.

About
:thumb309824624:





My fandoms






My ships
:thumb168697190:



:thumb575276397::thumb541995240:

:thumb596748874:
Click anything to see artists page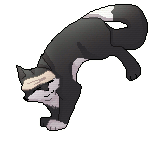 :thumb661388439:
Favourite Visual Artist
Clovxr
Favourite Movies
South park- Bigger Longer and uncut
Favourite TV Shows
Supernatural, South park
Favourite Bands / Musical Artists
I don't possess a favorite.
Favourite Books
Warrior cats
Favourite Writers
Erin hunter
Favourite Games
South park the stick of truth, Animal crossing, Farcry 4, FNAF 4
Favourite Gaming Platform
Xbox
Tools of the Trade
Pardon?
Other Interests
I enjoy reading countless amounts of fanfiction from 12- 5 am some nights. Aside from that i enjoy watching Markiplier and Jacksepticeye