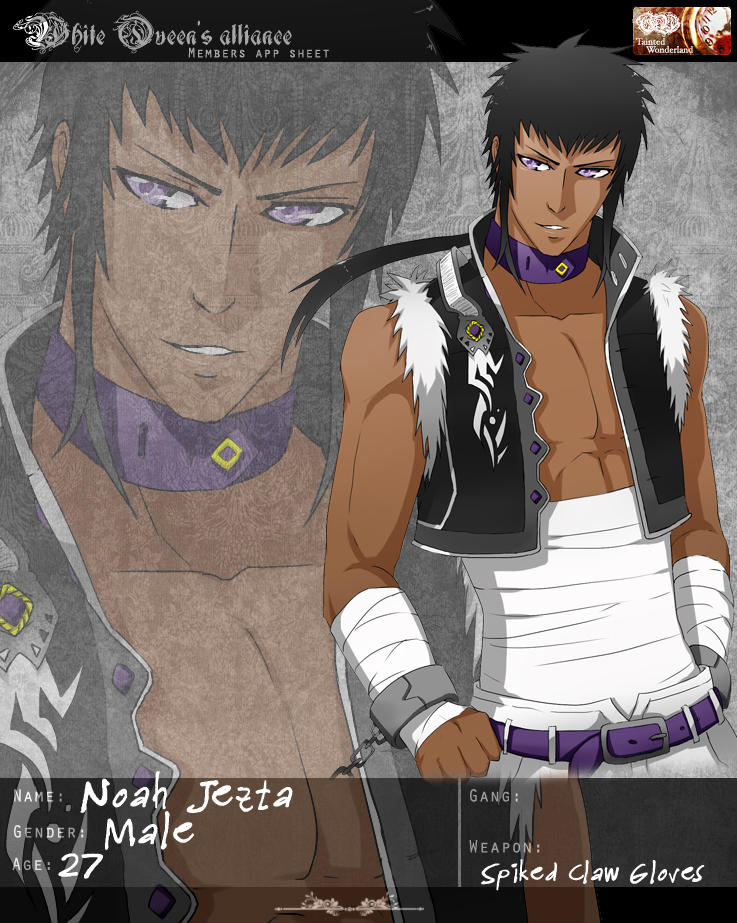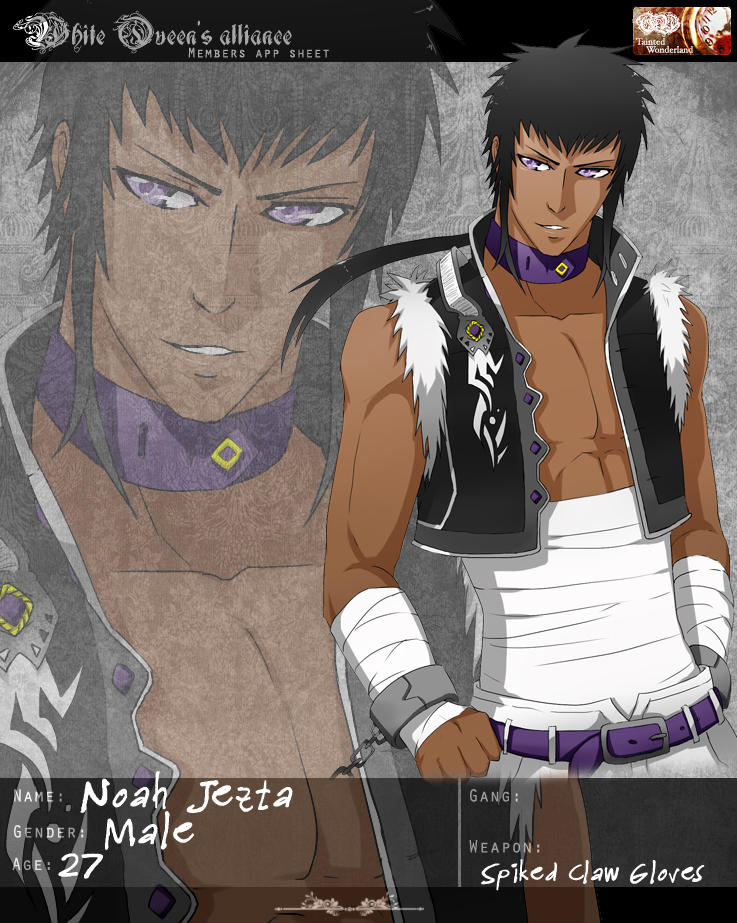 Watch
App For:


Name: Noah A. Jezta
Age: 27
Gender: Male
Eyes: Violet
Hair: Black
Height: 6'5"
Weight: 176lbs
Orientation: Bisexual
Nationality: Egyptian


Alliance: White Alliance
Mafia Gang:
Choice 1: White Queen/ Reves
Choice 2: Cheshire Cat/ Null Rose
Choice 3: Hatter/The Danbury Shakes
Choice 4: March Hare/Celestial Lunace
Choice 5: Dormouse/℟σѕ¢υяσ

Weapon: Spiked boxing glove

Appearance: The man stands 6'5" but stands 6'6" with his black buckled heavy boots. Noah has short and slightly spikey-like black hair with a medium long tail. He has a dark skin tone, showing his egyptian-ness. He always wore bandages around his arms and abdomen area. With that, he then wore a sleeveless, furry black jacket and white baggy pants with a black belt. Oh yeah, his wrists are pretty much chained up cause he was living as a prisoner before he came to the tainted wonderland. He could take them off but somehow he likes wearing them for some reason, despite they might get in a way of things but the long chains can be really useful at certain times....

Personality: Noah is the kind of dude that likes to show that he's the man of the house. Whoever tries to disrespect him, you'll get a beating of a life time with his spiked claw gloves. Though he knows when to let others, especially his superiors , to order him around and obey their commands...BUT...depends what kind of commands are they giving. He won't follow any demands if he finds it troublesome or stupid. The black dude always like to bribe stuff that he wants perverted-ly when he likes it or not. So beware of his skinship-ness. He likes to tease others that can be easily be teased but the harder the better. He won't like it when the person he is teasing with is tooo easy to be played with, especially the too innocent ones.

Likes: bullying, ice-creams, gloves, boots, snakes, watermelons, wine,

Dislikes: too-spoiled brats, too innocent brats, dolls, spiders, people waking him up from his sleep, people taking his food,


History: Like others, Noah grew up in a normal family with his parents and his siblings. Being all innocent and being such a good boy when he was a kid until he got too exposed to dark side of the world when he was hanging out with a group of 'friends' that he shouldn't be hanging out with during high school. Hanging out with them got himself involved into crimes such as stealing, street fights, vandalism and more. He was getting more and more violent but he finds this path that he walks more interesting and fascinating than the path he used to walk through when he was young. In the end, he was caught and send to prison. To think that would teach him a lesson. In prison, he was like mafia boss in there. The leader of the deadly gangster prisoners. You can say this quite Mary-sue but the dude has his ways around to get out of trouble. He may be just a dude who likes to kill but he knows killing is not the only way to get what he wants. He can gain more than that. He could gain respect from other with his sly mind.

After few years being held up in that hell hole, things weren't going smoothly as he expected to be. False rumors started to spread and people starts being either anxious or scarred being around Noah. It's not something he should be leave alone of. He needs to get out of that shit hole fast, cause a lot of people giving him the killer stare. You think he can handle all of them? The prison guards won't be able to stop them murderers before they could touch Noah. He needs to leave that shit hole alive and quick. Furthermore, It was then when he was cleaning the disgusting bathroom mirrors, he found himself being sucked in and woke up in tainted wonderland. A place, a side, a path that he would truly like to walk through.