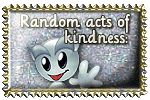 DA member # 1066262
Love me or hate me, there is no fake me! Better to be an open sinner than a false saint!
xoxoxox
Alisha // Infamous Swordexpert (c) 2011/2012
Current Age: 25, Current Residence: Lacombe, Alberta Canada, deviantWEAR sizing preference: Medium
Personal Quote: Teach me the rules, and I'll show you how to break them

Free counters
Favourite Visual Artist
DaVinci
Favourite TV Shows
History channel anything!
Favourite Bands / Musical Artists
Eric Clapton,Def Leppard,Nirvana,Metallica,Pink Floyd,ACDC,Dido,Kanye West,Concrete Blond,Enigma,
Favourite Writers
Edgar Allan Poe & R.A. Salvatore
Favourite Games
morrowind, BioShock, Conkers, Sudeki, WOW, DDR
Favourite Gaming Platform
PS3, X-box 360, Nintendo, WII
Tools of the Trade
Digital Camera, psp8, Photoshop 7 and photoshop 9
Other Interests
Photography, stock images, html, web design, body modification, love