SPOTLIGHT SECTION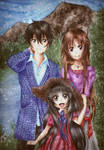 -




All Sword Art Online related art is accepted, don't be shy.
Please feel free to submit any art, be it traditional, digital, etc. This is a Sword Art Online fan club so please try to make sure its related.






If there's a folder in the gallery section that you feel should be there feel free to leave a message and I will add it.