On tumblr: sweetlittlevampire.tumblr.com/…
Previous contributions: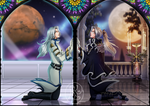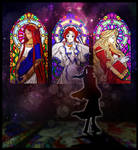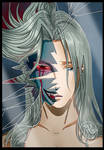 ---
My contribution to the
Never Forget - Trinity Blood Theme Day 2018
, hosted by
sisternightroad
on tumblr.
Epilogue


noun | e·pi·logue | /ˈɛpɪlɒɡ/

(1) a section or speech at the end of a book or play that serves as a comment on or a conclusion to what has happened.
(2) a.) According to Greek rhetoric, the last part of the oration […] which aims to move the audience; b.) By extension, the last part of a speech or a paper, in which the things already mentioned are summarized.
(3) a.) In modern usage, the final part of the ancient tragedy, that is, the exodus, and in general the conclusion of a drama, of a novel et sim; b.) Figuratively speaking, fulfillment, completion, especially of a story.

"Oooh look, the theme is 'epilogue', and she drew a book! And it says 'epilogue'! The epitome of creativity!" ← me while sketching this, lol.
I am going to be honest: this year's contribution caused me a lot of pain. XD In more than one sense - my back injury said "hi" again, so I've been putting off drawing this because sitting too long is painful. And, to top it, I had no idea what to draw. For
weeks
. It was utterly frustrating.
So, to get rid of said frustration, I went and read fan fiction. No TB fan fiction, granted, but it made me think. Fan fiction tells the stories we wanted to hear but couldn't, out of various reasons. Perhaps it all plays in a universe that differs from the canon one; perhaps it features characters we think would fit well, but are from a different series.
Perhaps, the canon has no ending, because the author never got to finish it.
Which is the case for Trinity Blood. We get to write our own endings, we get to create our own epilogue.
(This is also true for fan artists, like myself.)
That's why this wee drawing of mine features an open book with only the title "Epilogue". The epilogue has yet to be written and discovered by fans. On one hand, I would have loved to know the creator's vision of an epilogue; on the other hand the missig ending opens up so many possibilities for creative outlets within the Trinity Blood universe.
As for me - maybe it's cliché, maybe even kitschy, but ultimately I would have wished for Abel to finally be happy, in one way or the other.
Someone please remind me to never draw Abel's rosary this close up again, though. That thing is
monstrous
.

---
A photograph I took of a church window in the Liebfrauenmünster in Donauwörth, Germany, used as overlay
Trinity Blood © Sunao Yoshida (Thores Shibamoto / Kiyo Kyujyō)
Image details
Image size
3508x4961px 22.55 MB