=======================================
Commission info please click here:
swdd-cat.deviantart.com/art/Co…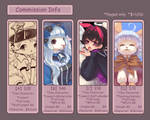 ◇◇◇◇◇
Please place your order in form by private message.
When I recieve your message I will contact you and confirm your final requirer.
I will tell you how long your order will been finish.
If you feel comfortable, then the order have been found.
◇◇◇◇◇
When the order was finished,I will send you a review picture and my paypal account.
After you comfirming your order, please make an advance payment in full amount and let me know.
I will upload the picture into my top page.
◇◇◇◇◇
I'm sorry but I do not accept commission free.
================================================
Many thanks for reading
if you have any question, ask in the comments please
1.  

  【D】+simple BG (clear)