Swag's current highest Tetris score: 209,347

Merch Store: www.redbubble.com/people/SwagF…

Upcoming designs
-Homophobe Tears Mug (Female; Pupear and Pebble)
-I'VE ANGERED THE BULL T-Shirt/Sweatshirt

Tell me how constantly you masturbate to me: www.thiscrush.com/~swagfeather

Okay, if you're going to stay here, I need to lay down some rules, regulations, and I guess facts about me and stuff to expect from me often?

1- I have no fans, only friends. The people listed below are my closest ones, but that doesn't make you any less special!

2- Put up with my intense fangirling. I'm obsessed with good shows like Star VS. The Forces of Evil, Adventure Time, Avatar; The Last Airbender, The Legend of Korra (sequel to Avatar). Those last two are my favorite shows.

3- Call me J-Willy (please don't).

4- I really REALLY like Disney, expect me to talk about my favorite Disney movies.

5- I'm an idiot and make stupid images of my characters.

6- Okay, listen, I honestly don't give two flying lemur scats on what pronouns you use, but if you really want to know, I am a girl.

7- Come with me to The Foo Fighters Arms if you really love me.

8- I like Foo Fighters.

9- This has got to be my favorite nursery rhyme

I had a little nut tree
Nothing would it bear
But a silver nutmeg
And a golden pear
The King of Spain's daughter
Came to visit me
And all for the sake
Of my little nut tree

10- I will notify you every time I watch Happy Feet. It's a TRADITION! Not daily or weekly, but every-time-I-watch-Happy-Feet-ly.

11- I still, un-ironically, love Little Einsteins. I'M SORRY IT'S JUST SO NOSTALGIC!

12- I've only watched 6 anime but I act like I've seen all of them

13- Please, please PLEASE don't provide criticism unless asked to or it's absolutely necessary. This isn't sensitivity taking over completely, but it's to prevent YOU making mistakes. I'm a depressed dork, and sometimes criticism is the last thing I want.

Swag's list of favorite shows:
-Avatar; The Last Airbender
-The Legend of Korra
-My Hero Academia
-Rick and Morty
-Adventure Time
-Star Vs. The Forces of Evil
-Gravity Falls
-Danny Phantom
-More but Swag is laaaazy

I'm also a musical nerd whoopsie
-Waitress
-Footloose
-Wicked
-Heathers
-Hamilton

Deep Shit Blueberry Bacon


Get a FREE visitor map for your site!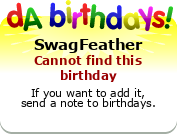 Art Status



Stamps:



Dat peep I know IRL:




Some good buddy chum pals of mine:












Keeg the Dreegeeg Sleeger who made peeg and harmoneeg with the dreegeeg by signeeg the peeg treegty breegeeg peeg and harmoneeg betweeg the valleeg and the dreegeeg keeg:




"Secretly" a Turkey




Meme Daddy:




My Wifeu:




And our sons:





We finally have a daughter:




Look a nerd:




One whose talents I wish to exploit up the wazoo: