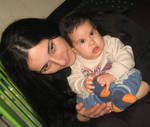 :thumb285530111:
Dear friends,
I haven't been active very much lately because of my work obligations. By the way in June I became a grandmother of one gorgeous baby named Viktor!


There was a big snowing in Serbia these days and we enjoy in winter magic

)
We just hope there won't be a big flood when all that snow melts.
Greets and love to you all and God bless you!
I thank you for all your favs, visits and comments