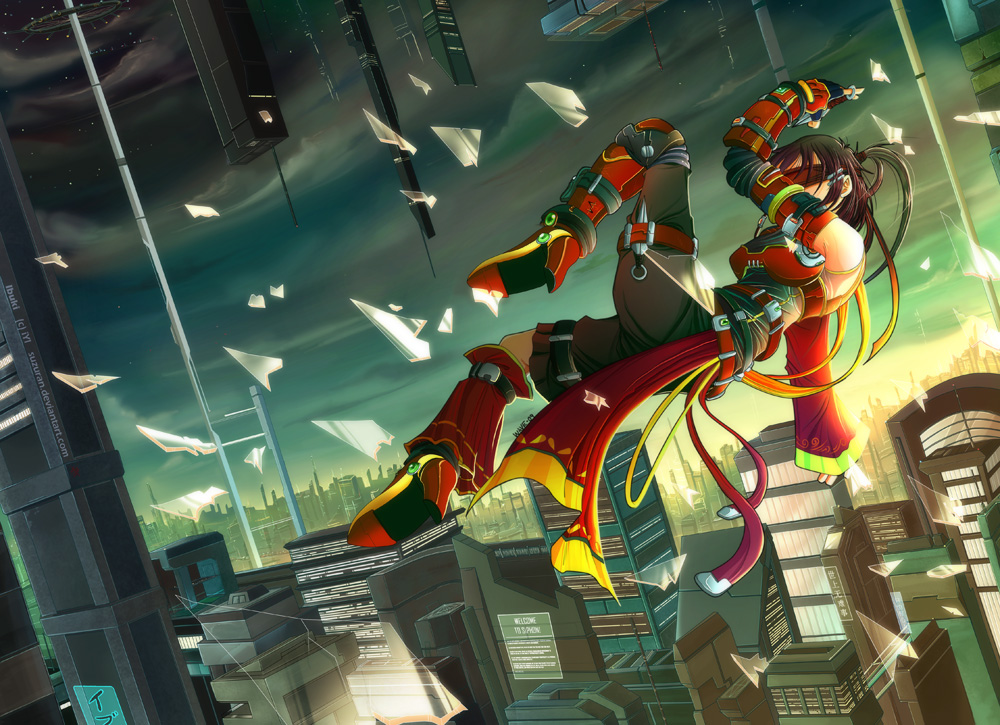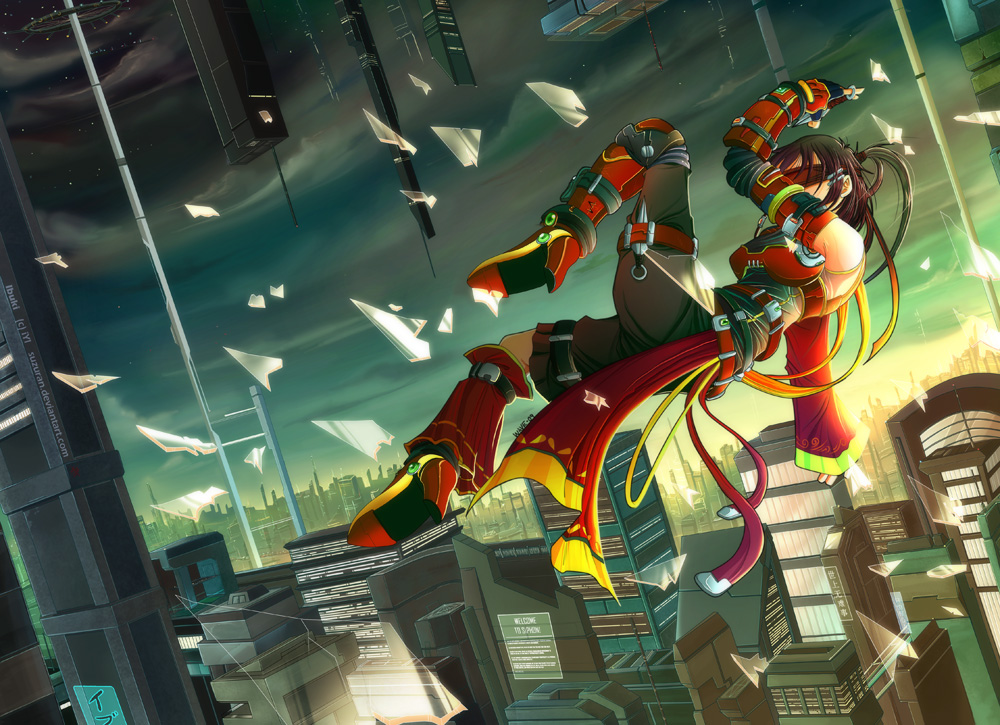 Now that is pretty darned amazing stuff, right there! I must say a lot of people talk about drawing dynamic character scenes like this, but most artists only ever draw their characters standing around and eating a donut, or something!

The effect of the skyline coming in from above and below is just sensational. It makes it look like the city is closing in on her, like teeth.

The broken glass really gives it the sensation that she's thrown herself through a window at some serious speed.

And the shading and the sky work all have some very serious appeal to them. The sheer amount of work that went into those buildings is pretty darned impressive stuff.

And of course, the character pose is extremely dynamic, with loads and loads of detail.

This made my day, to say the least.
The Artist thought this was FAIR
166 out of 170 deviants thought this was fair.
Back when you first submitted this piece, I really liked it. Now I'm deciding to critique it since I've had some time to let it kinda sink into my head a bit, I noticed some things that I think you do consistently throughout your art, and I feel like I should perhaps point some of them out.
Backgrounds. Your backgrounds are always pretty. They're detailed, generally always match perspective, and most of the time they are breathtaking. Sometimes they don't make much sense, though. This one seems like a futuristic town, which I suppose means it could be anything, but I noticed a few things that seemed a little... off. For instance, the clouds in the sky. They match a diagonal bottom left -> top right pattern for the most part, until the left side of the image they suddenly swoop into an almost-fisheye. I also think it could have done without the floating backgrounds; they sort of detract from the level of contrast that you could have achieved by having plenty of buildings in the background on the ground and a clear sky above. Despite this however, backgrounds are definitely your strong point.
The glass shards don't really look like glass; they're nice and reflective, but they seem to have varying thickness, like they're all from a different window. On top of that, I noticed they've all got a long triangular point pointing up at the top left. It seems like a lot of them were just cursors put all over the place. I imagine that if glass were to splinter that way the shards would turn at least a little bit. That said, if the window was made of glass it would probably shatter into a lot of tiny shards (
[link]
) with a few larger ones thrown in there.
I can't say I know much about the character, but from a practicality point of view her outfit seems to be rather... tethering. If she'd be fighting a lot, it doesn't really seem to be the best thing to be fighting in. I figure it is Final Fantasy / Square Enix based, but even then it just seems a tad silly that she'd belt a cloth to her right arm and shin, or wear heels for running, or suspenders that could be grabbed and pulled. I also think that if she were falling at the implied direction with the implied speed, all the pieces of dangling clothing should be flowing to the top left. Speaking of the dangling cloths, the cloth coming from her belt and towards the viewer, the bottom of it is implied to be folded, yet it seems cut into as if there is a piece missing from the pattern. The back of the cloth, I think, should be visible (
[link]
hope you don't mind me doodlin' on your stuff).
Anatomy-wise on the character, I've noticed you kinda have a thing for totally breaking limbs in the background (I do it too v_v). I mean, unless her arm is supposed to be broken at the shoulder (I'm assuming it isn't), it looks sort of disjointed, like someone just kinda stapled it to her torso Pin the Tail on the Donkey-style. That hand also looks significantly less Your proportions are, I find, generally fairly off. This character doesn't have it
too
bad, but her left arm is fairly long. In my quest for impossible perfection I found that the elbow comes down to just before the bottom of the ribcage if you flatten your arms against your sides. In all honesty, I think the thing that makes this my favorite of your pieces is that her arm covers her face.
I think that about covers everything I saw 8D Hope it helps!
The Artist thought this was FAIR
42 out of 50 deviants thought this was fair.