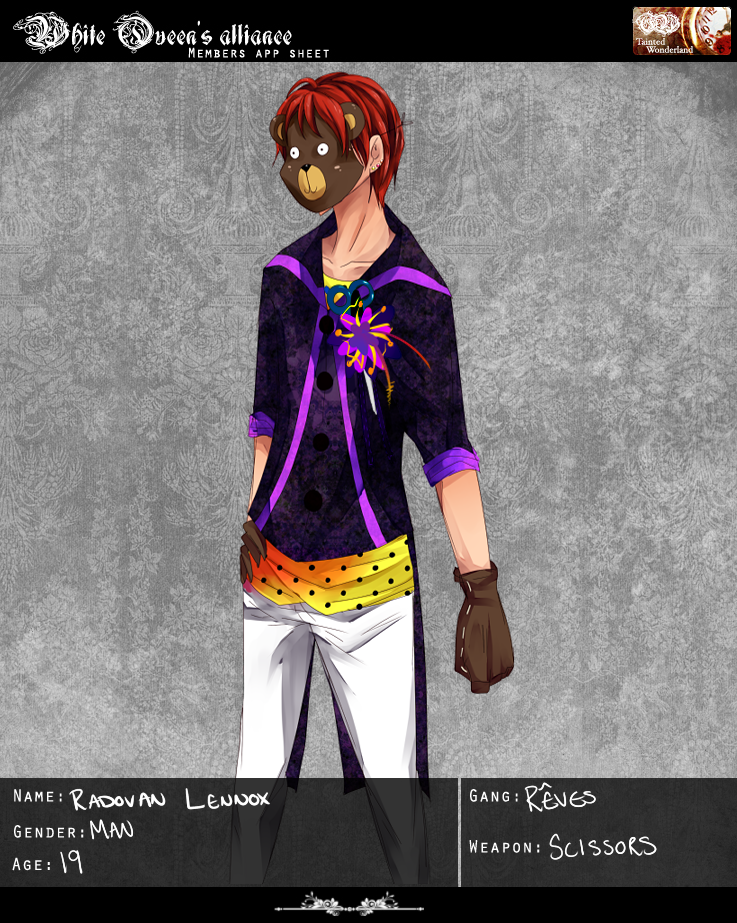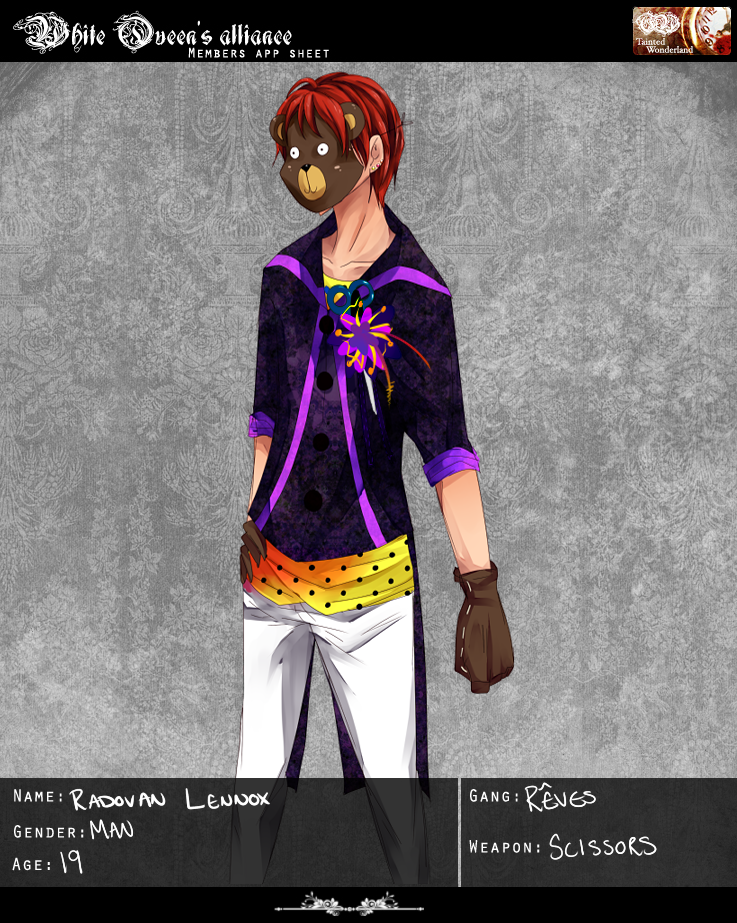 Watch

Name: Radovan Lennox

Age: 19

Gender: Male

Weight: 130 lbs

Height: 5'7''

Alliance/Gang: #1White Queen/ Reves
#2Chesire/ Null Rose
#3Doormouse/ Roscuro
#4March Hare/ Celestrial Lunance

Job: Corpsman

Weapon: Scissors

Appearance: Always wears an animal mask (doesn't necessarily have to be a bear). He has short red hair, tanned skin, and both of his ears have 3 piercings. He wears a purple tail coat, with a polka-dotted yellow/pink muscle shirt underneath. He has white cloth pants, and black shoes. There is a large cloth flower which holds his scissors over his left breast.


Personality: He's shy, and very willing to please. He has an obsessive interest in human anatomy. He gets embarrassed easily and it also uneasy with people knowing what he's feeling so he wears a mask to hide his face.

Likes: Bears, exotic flowers, card games, explosions/fireworks, human anatomy, White Queen

Dislikes: Boats, kids, monkeys, sour foods, Red Queen


History: At a young age Radovan started wearing masks, because it gave him confidence (When he got older it had to do with his lousy pokerface). His parents work within in the fashion industry and influenced his style to date. At school and home Radovan was ridiculed because of his choice to always wear a mask. Radovan always had an interest in human anatomy, and wanted to pursue a job within the medical industry. His parents were against this decision, and made him work for them. One day, Radovan's parents got him to grab fabric from the storage for them. While in the storage, a mouse startled him, which lead to him tripping and falling into a mirror.
He woke up within the White Queen's territory, and caught a glimpse of the White Queen herself. Upon seeing her he felt this strong need to please her. For awhile he just followed her around, too shy to speak to her. The White Queen took notice of him and let him into her gang. He then pursued his fascination with human anatomy as a Corpsman.