I will keep this prices until 20th February 2019
Please share if you guys interested in this. Thank you for your support. I really appreciate it !
NOTE : READ ALL before asking a commission. Asking a commission means that you have
read
and
accepted
all the information of this page.

I use Paypal only. The prices is in US dollar . My paypal : art.lasouris@gmail.com

The transaction fee wil be paid by you

50%
Payment needs to be sent before hand (please note me again after you send it so i can check). The 50% left will be send before I sent you the completed file.

Commission arts are for personal use only

Pleases behave nicely & friendly - no rude words or trolling

Please no tracing, copying, editing, stealing, reselling

Please feel free to ask if you have any questions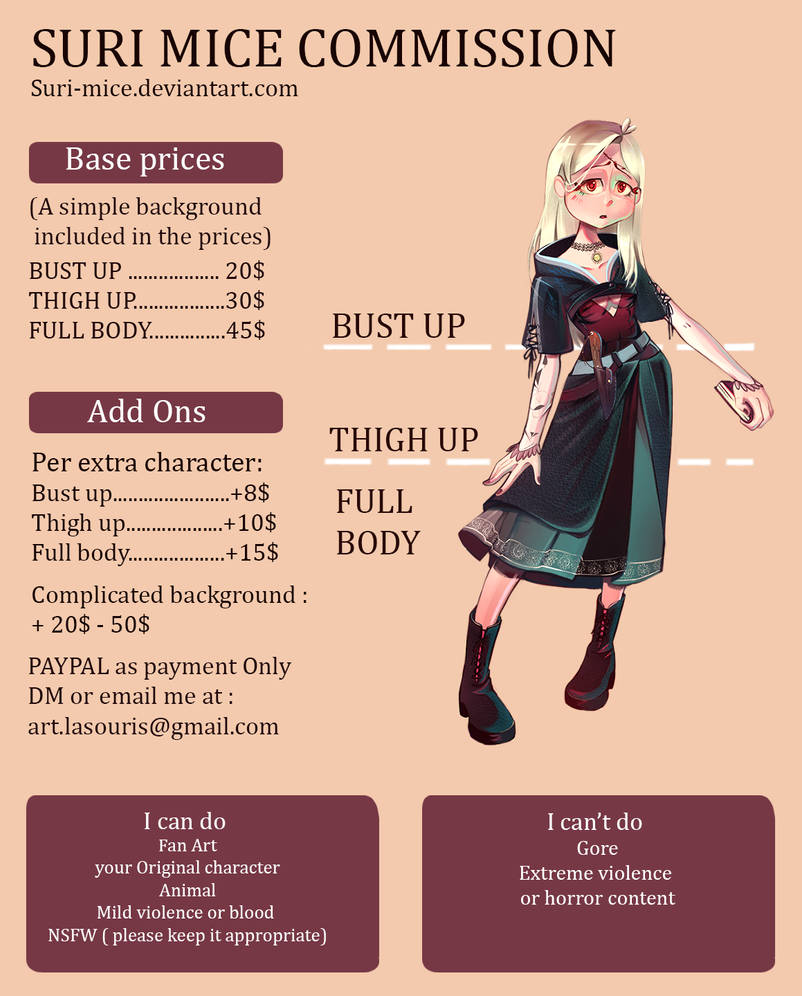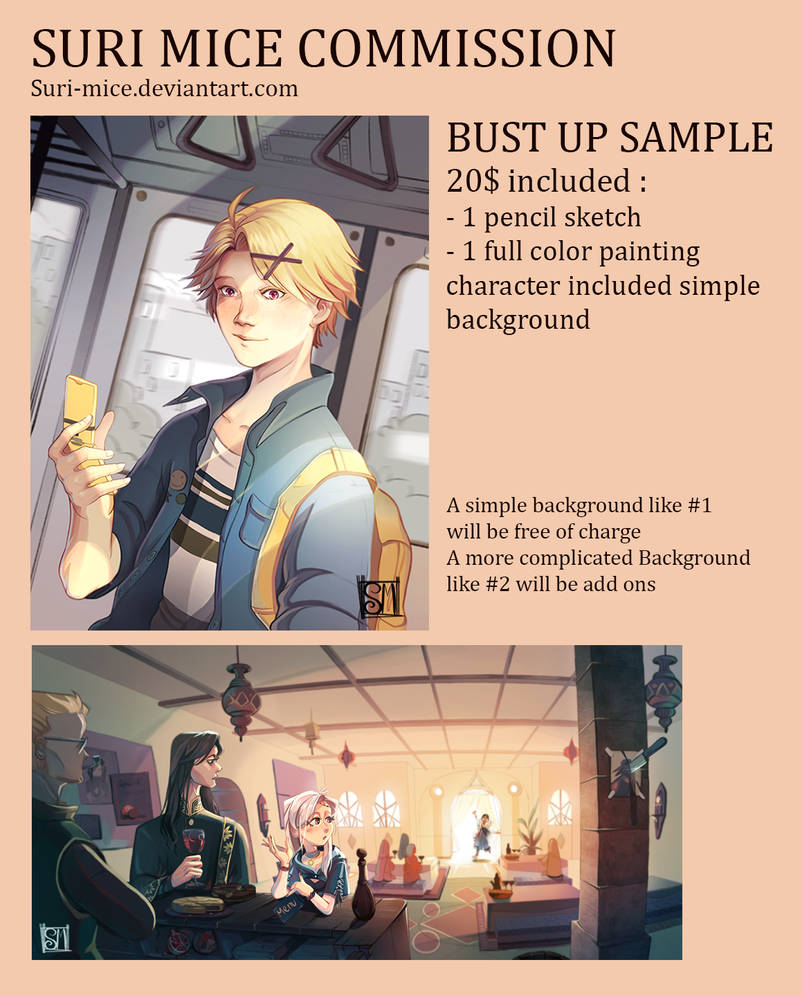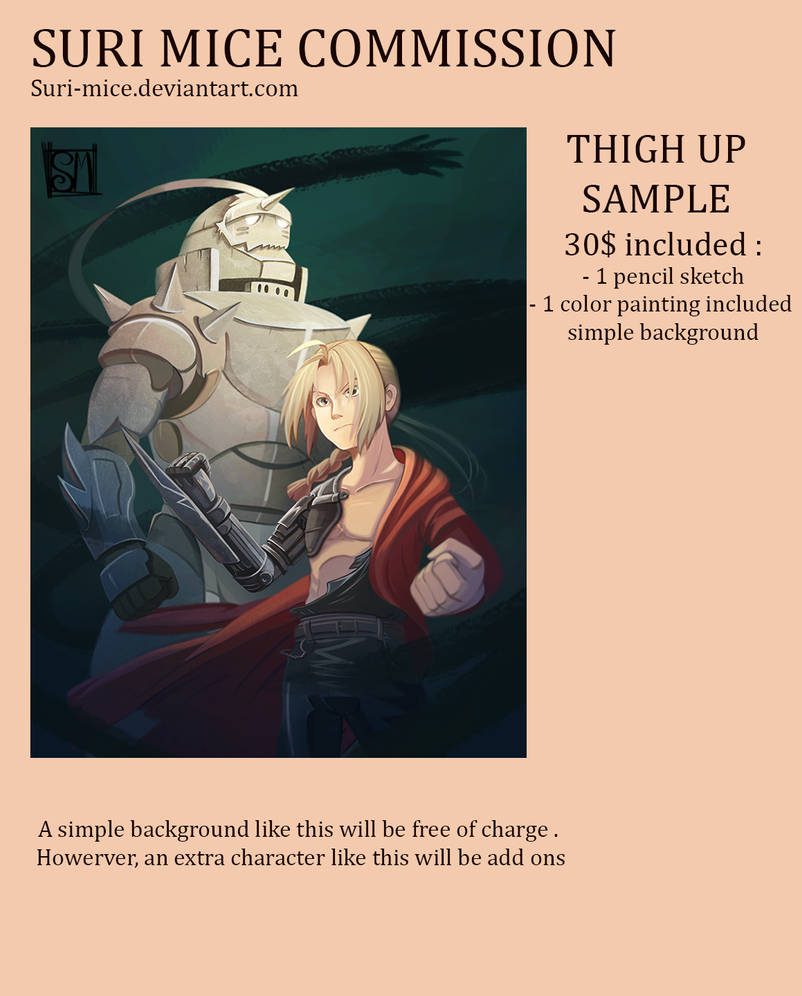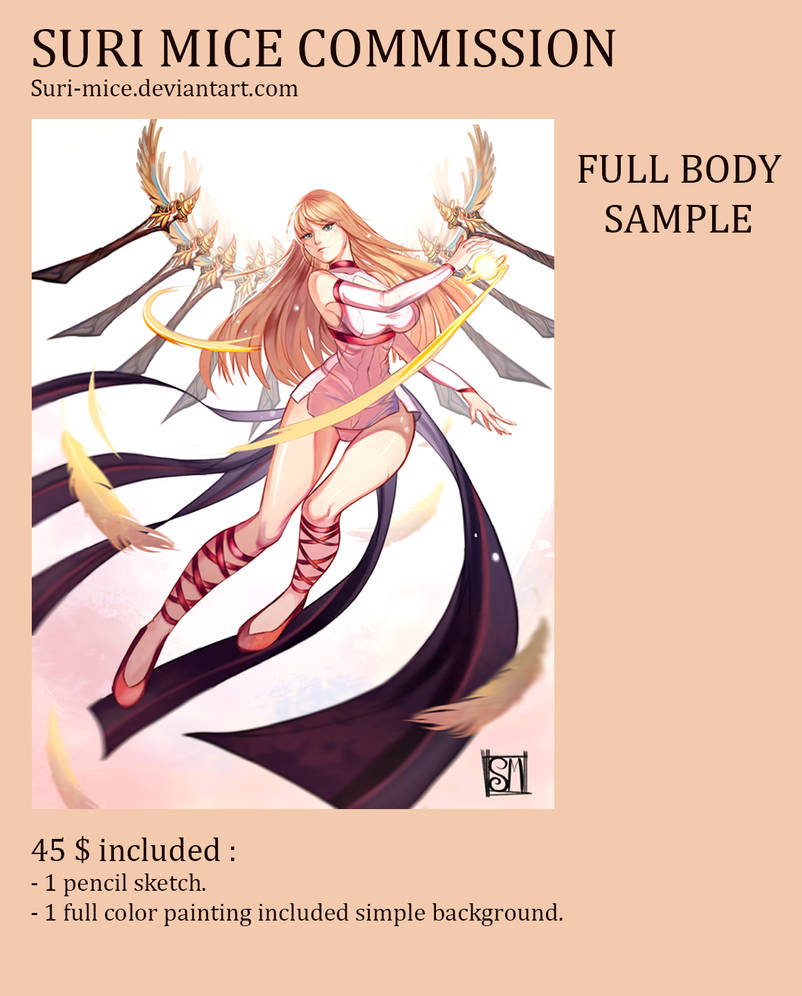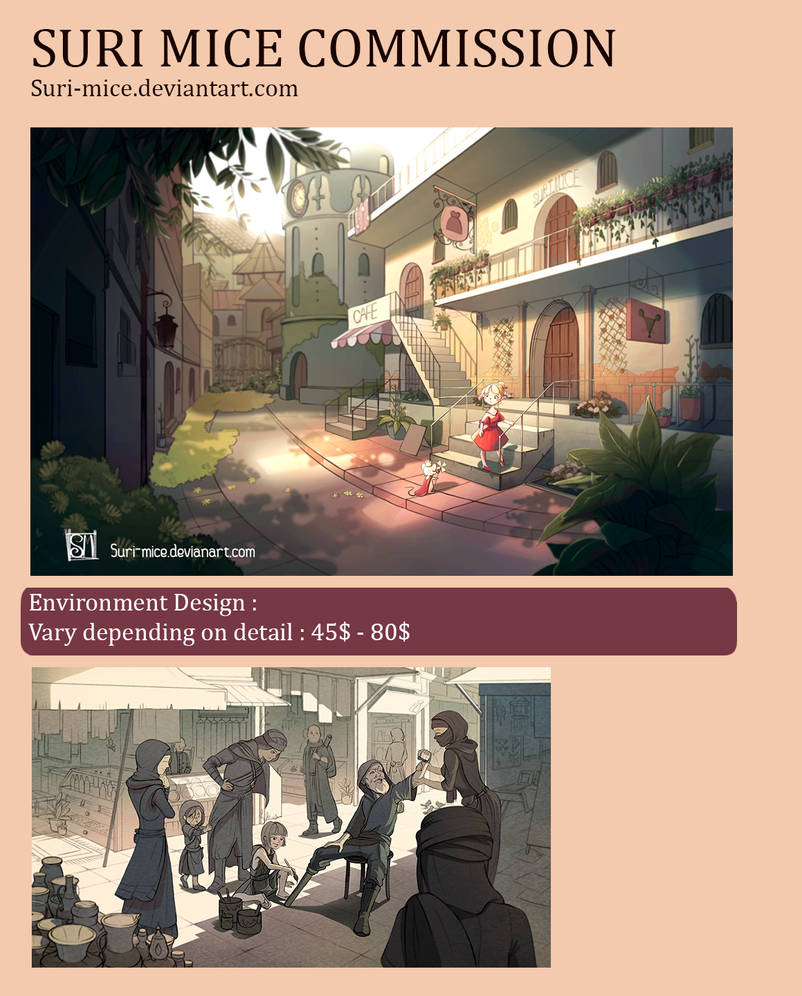 INFORMATION ABOUT ART COMMISSION:

1
- Time:
When your slot is confirm, you will receive a sketch within 7 days. Then, your final artwork will be send after 10 days

2
- Size:
You will receive the painting in digital format (.jpg) or (.png)
4000px in the largest format

3
-Style:
The style will be what you saw in my gallery . If you wish to change the style please tell me in advance, I will tell you if I can follow that style or not

4
- Payment:
Please ► You have 4 days to send the payment. I will understand that you're not interested in your slot anymore in the 5th day.
Please ► Send the money in
US dollar
Only Paypal payment is accept.

5
- Rights:
You're free to use it in
any personal use, not for sale .
On my side, I can use it in my online galleries or anything
non commercial
if it helps me to promote my art.
Commercial use is prohibited without my written permission. Don't cut my signature. For commercial use, a % will be added for every use you want.

6
- Preview and changes:
-I will start the commission
AFTER
the payment is done.
-When the sketch is aproved, I start inking/toning/coloring.
I don't do changes after the sketch have been aproved
(only if I make any mistake toning or coloring, then I can do a max of 2 small changes), so tell me all you want/find important for your commission in the first note.

7
- Refunds:
If you cancel your commission after the payment is done, I will giving you back only 50% of the payment, if I have send you the WIP or finished the work, you won't get any money back.
If you do the payment before I confirm your slot or if you send it incorrectly,
I will refund it but you will pay the paypal fee for the refund
.

-------Form---------
Send me a note with the info & the title "Commission"
-deviantART ID or link :
-Real Name:
-Username/E-mail in paypal:
-E-mail:
-Type of Drawing you want:
-Total Price:
-Character Description/References: