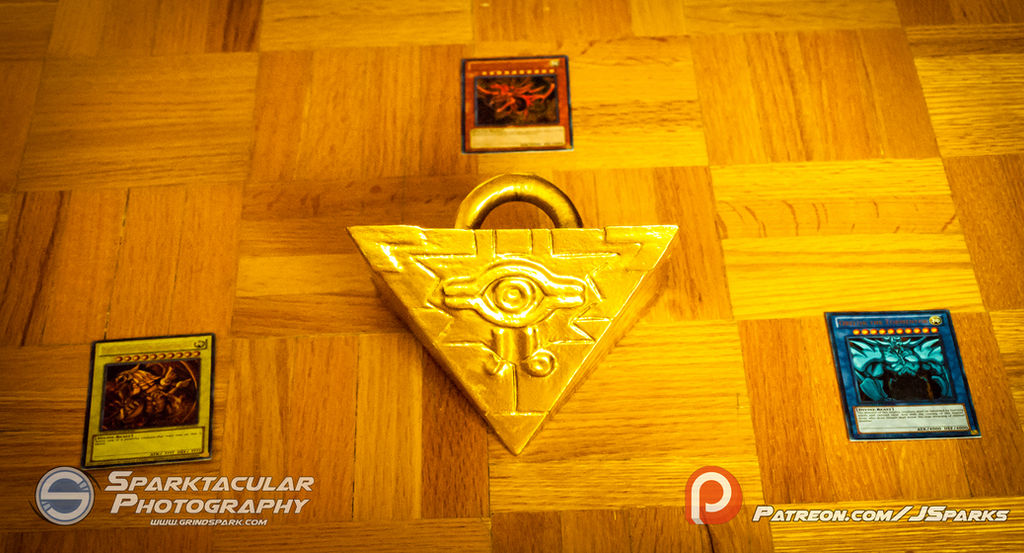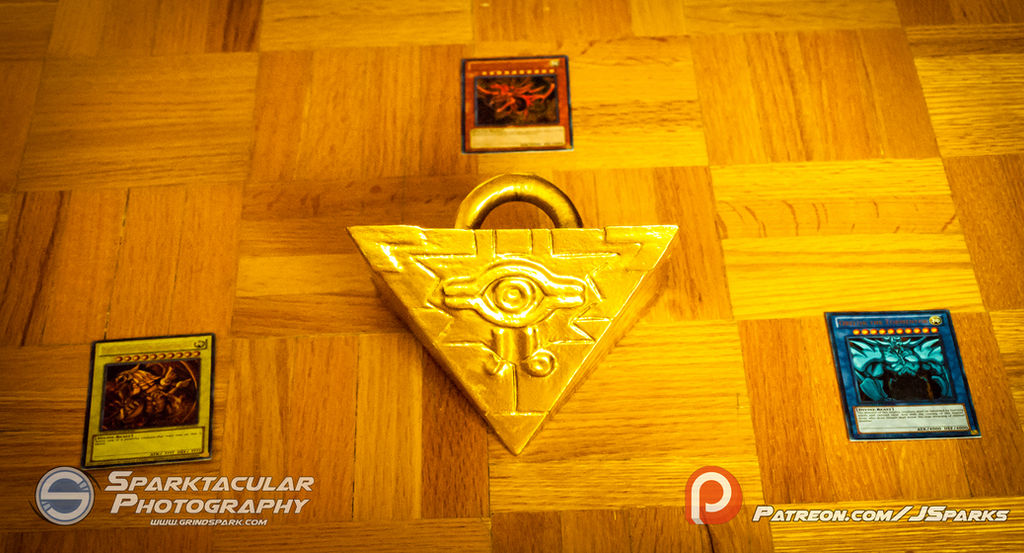 "Long ago, when the pyramids were still young... Egyptian Kings played a game of great and terrible power. These Shadow Games erupted into a war that threatened to destroy the entire world until a brave and powerful Pharaoh locked the magic away, imprisoning it within the mystical Millennium Items. Now 5000 Years later, a boy named Yugi unlocks the secret of the Millennium Puzzle..."
This is my original, 3D Printed Millennium Puzzle from Yu-Gi-Oh! that I made in May 2017. I posted about it last year on Social Media and could've sworn I posted about it on DA as well, but I'm doing it now. I made the original Model of the Millennium Puzzle from scratch in Autodesk Maya in March/April 2017 based on several varied reference images to detail each side. My friend, Tyler, owns a 3D Printer, so I printed it on his machine and later used his power tools, epoxy, resin, and primer to polish the print smooth. Then I took it home to my garage and spraypanted it gold. I finished it in May 2017 and used a thick rope to wear it at Anime North 2017 on the Saturday and Sunday. I don't really cosplay, but this attracted quite a lot of attention at the convention! A lot of people were asking about it and how it was made. It's my first cosplay prop, of which I'd love to make more. It's rather large, to scale of how the Millennium Puzzle would be if it was real, and feels weighty, but also feels pretty weightless when you wear it on a rope around your neck. I really want to explore making resin casts of these. I tried last year and mostly failed, but I'm hoping to give it another shot soon. I'm very proud of this project.
Yu-Gi-Oh! used to be a franchise I loved for much of my life. I may not be a fan of what the franchise currently is now, but Yu-Gi-Oh! will always have a very special place in my heart and I have amazing memories of the series, as well as making this. I hope to compile all my documentation photos about how I made this at some point. Until then... IT'S TIME TO DUEL!
-----
You can support more cool stuff like this by following/supporting me on Patreon!
Patreon.com/JSparks