Hai Guys!
Before I begin,this isn't featured art,

is running that now and she's doing a wonderful job at it

This is just something I wanted to do for two of my awesome friends.

and

These two have one of the most adorable styles I've ever seen and they put so much work into their art.
I even got a gift from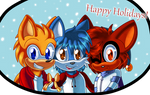 and look at this adorable artwork

made.
I recommend watching these amazing artists if you have not already U w U
Featured art will be return in a few days for week 5! Keep a look out for your name, the list is getting big!