See? I told you I wouldn't forget!
Anyway
No intro today XD
First up for this week is an
EXTREMELY
talented and lesser known artist

I loved his art at first sight and he looks like someone who definitely deserves a lot more watchers. Aside from the fact that I'm personally a massive Tails fan his art is very well done and I see a lot of success in his future.
:thumb426599113::thumb422266853::thumb423963970:
He also makes a whole lot of My Little Pony art for those of you who are interested.
Next for this week is

another great upcoming artist with a really cute art style. Whether it's intentional or not Trisha specializes in drawing adorable characters and she's constantly improving, especially with her shading and colouring.
:thumb412401451::thumb420083306::thumb417442503:
Next up is

another very talented artist who has made some huge improvements recently, she's just upgraded her shading style and it looks really pretty. She keeps improving in each drawing at an alarming rate. Her art is amazing and she's definitely worth a watch!
:thumb429248180::thumb428074118::thumb429597172:
Last of all for this week is

another great artist with a beautiful and unique art style. I absolutely love the way she uses lighting to add extra liveliness to her art. It's a really nice touch and it definitely doesn't go to waste. It also works really well with her shading style.
You thought that was the last person for this week?
Well I changed my mind

This time for real, the last amazing artist to be featured this week is

Some of you might know of her already, especially those of you who use bases because Debbie makes some really great ones. Obviously I'm not going to show them off though since she's got some beautiful Sonic art as well! Debbie uses a combination of shiny and soft shading to make her art that extra bit better.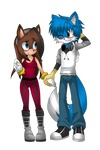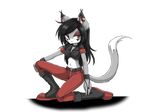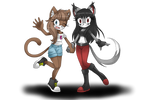 That's all for this week guys! Remember to send me a note if you want to be featured next week, I'm running out of awesome artists to feature!