Recently, some people have been asking us if there was a possibility to become a contributor to this group. Unfortunately, there is no such rank here... But don't be sad, for we have an alternative:
Supermembers
!
Supermembers have some of the advantages that contributors in other groups have (like the ability to contribute artwork done by other people). But since this is a group about a character/world that is not quite known by everybody (yet), one would think we'd run out of submitting material pretty fast. So we decided to spice things up a bit.
To be a supermember, you have to show us
your superhuman self
, a kind of avatar/representation of yourself in the Supercrash world. But how can you prove you're worthy of the "Super" title? By filling this: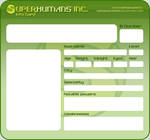 This is your admittance into the supermembers rank! Fill it according to the instructions (please read carefully the artists' comments), submit it to the group, and once it's approved, you're in!
But here's the interesting part: by being a supermember, your superhuman self also has the chance to appear as an extra (a minor, background character) in the Supercrash webcomic, whenever there is a huge amount of characters to showcase.
If you have any questions, just let us know by commenting here.
Thank you for reading!