From today until Fri Jan 4th, I'm running a special on pin up commissions!
If you order one commission at the regular price, you can get a second commission for HALF OFF the regular price.
I only have about five slots available to this deal-- and it will be first come. first served! Once the slots are filled, the special pricing will end.
So jump in now!
You can find my commission info here--

Commissions Are Open and Available!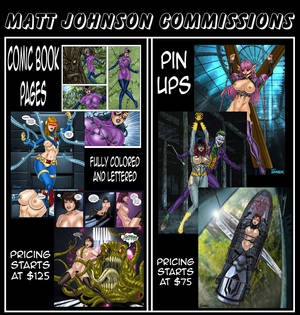 Hey guys!
(Most questions are answered here, so be sure to read it all if you're interested in a commission! Thanks!)
I just wanted to let everyone know that I've got some openings on my commission list again. For anyone who's interested, here's the run-down of how my commissions work:
For DIGITAL COMMISSIONS (files completed in Photoshop and delivered via email) prices start at $75 for a single character. Items that will add to the price will be peril devices/traps, additional characters, specific backgrounds and so on.
Comic page commissions are also available, starting at $125 per page (fully colored and lettered) and go up from there, depending on the details of what you're looking for.
I can also illustrate likenesses of your favorite celebrities, or even people in your own life (with the necessary reference photos to work from.)
To start the process, I would need a description of what you'd like drawn and then I can quote you a pric
For the quickest response, please contact me at johnson.superheroineart@gmail.com
PS-- Deal does NOT apply to comic pages. Only pin up commissions.