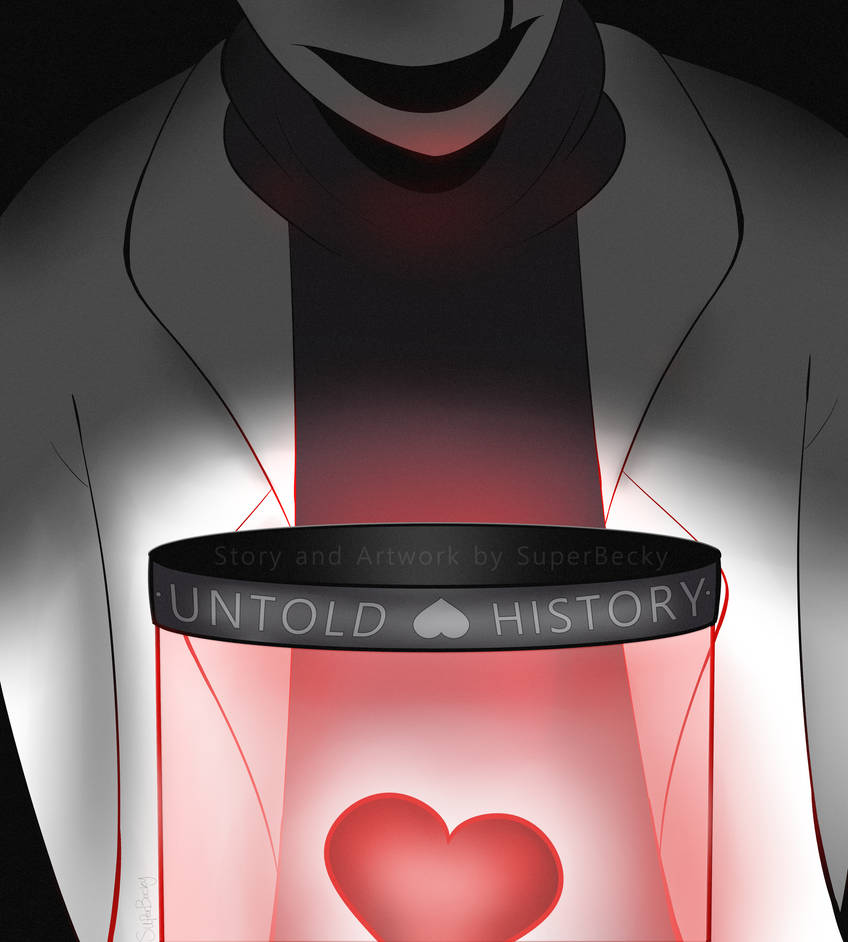 Table of Contents
1. Disclaimer
4. Rules/FAQ
DISCLAIMER
This story will not 100% follow UT's canon story as plot points will be moved around and new ones added.
However, this story does follow the original UT story more compared to having a whole new world, as it is supposed to be a different story of the original Undertale.
There may be things in this comic that take place that could trigger some people. Please, read the tags below so you know if this would be okay for you to read.

Also, I may add or change the information down below as I am still currently working on the story.
DESCRIPTION
In this comic series, Frisk falls a little sooner than usual, as the third fallen human. The story takes place with Gaster and Sans working as the top royal scientists.
Gaster is one of the most well-known monsters in the Underground, being known as a successful, sophisticated and stern man. The monsters praise him, believing that he will be the one to break the barrier. The goal for the monsters is to find a way to break the barrier using souls. However, Gaster believes in a better, more proficient way to break it. In fact, his idea could not only lead to monsters taking over the surface completely, but the world as well.
Being forced into this secret project, Sans, (who has new employment as a royal scientist), begins to realize just who Gaster really is and questions if what he himself is doing, is truly right. After all, experimenting on children shouldn't seem like the "right thing to do".
TAGS
(Dark and adult content, fluff/cute moments, drug abuse, angst, Emotional/Psychological Abuse, family problems, recovery, moral questioning, Sans fucks up a lot, Gaster does a no-no, takes place with Chara and Asriel still alive, preteen papyrus, science Sans, many hugs will be needed, brainwashing bullshiz, anxiety, depression/depression recovery, child neglect, sans is a young dad, DT abuse, alphys plays a role in this, Frisk is like 3, comfort and family, child abuse, fighting, secret hiding, illegal actions and also slight suicidal implications)
RULES
As of right now, please, do not Roleplay this comic/au.
However, if you want to make a Minecraft skin, then ill laugh my a-s off and say yes. Just credit me

FAQ
1. What should your au version of these characters be called? For example: Sans = Cross, horror, blueberry, outer, etc.
Well, they are supposed to be considered a different version of just classic Undertale.
However, if you wish to differentiate them, please put "Untold" in front of each character's name.
Example: Untold Sans, Untold Frisk, Untold Toriel, etc.
2. Is there any shipping in this au?
If there is, it will be hidden so that many people will hopefully enjoy this comic.
However, this comic/au, and I can not stress this enough, is NOT going to be frans. Frisk is 3, okay?
3. What's with all of the dark/2spoopy4me tags for this comic?
Well, the comic is going to get spoopy. The tags show/hint at what will occur in this comic.
4. Is this comic going to be really messed up?
Messed up... well, that's hard to say.

It depends what you consider to be scary/messed up.
Reading Horrortale's comics, you would know that those are reaaalllyy messed up in some ways. Or maybe you consider x-tale to be messed up?
My comic/au IS going to be dark, and it IS going to be messed up. Maybe not in Horrortale's way, but perhaps more than X-tale.
The point is that, yes, this comic will have some darker moments. So, if that doesn't sit well with you, you may not want to read.
But don't worry, there won't be any events like "head dogs" in this one.
And of course, I will jam pack some needed fluff as well~ And no, the comic will not be this way the entire time.
Actually, it will be completely chill for a good amount of it.
5. How old are the relevant characters?
Toriel and Asgore are around 25 through 30.
Sans...he is about 16 through 18 in this.
Gaster is like... 25 through 30
Frisk is for sure going to be 3.
Papyrus is about 12 or 13.
Alphys is 17.
6. Is Gaster related to Sans and Papyrus?
Originally, yes, I made them. As I continue to write this story, as of now, no, they are not. However, this is subjected to change.
7. Can I draw fan art?
Fan art...? I honestly don't know anyone that would do that, but please, go ahead if you want to~! I'd be honored to receive any wonderful works~ UwU
Just keep em appropriate and credit me as the au creator.
Also, please, do not draw in my art style as people do for aus like Endertale or Handplates.
I hate that. Additionally, totally link to me your work! c:
8. Can I write side stories/ fan fictions for this story?
Yes, as long as you credit me and write somewhere very noticeable that your story is not canon with mine.
Failure to do this will lead me to not allow it anymore.
9. How often will this story be updated?
Honestly, it's too hard for me to say. I shouldn't even be working on a project like this to begin with.
I started college and it REALLY eats up my time.
But, this is something I have been working on since 2017, so I don't want to give up now.
But like I said, I'm in college and school comes first.
So while it's hard to say exactly how often I can post pages, expect 1-3 pages (more if lucky) every 1 to 2 months.
I may even try to sketch up a lot of pages in the meantime so that I can post a huge selection in a day! This could be up to about 10 pages at once!
10. Where will the comic be posted to?
MAINLY my Deviantart.
I will post pages on the UT Amino as well, but pages will appear first on my Deviant art, and there will probably be a time gap of transferring the pages from my DeviantArt to Amino.
Basically, I will post on Amino and Deviantart, but my DA posts will be more frequent.

11. What are the characters like? Do they have personalities apart from classic UT?
Yes, they do. The core personality of each character will be present, but much will be added as well. You will have to read the comic to find out more~
12. Can I dub the comic for my channel?
Yes, you can. Though I doubt anyone would, I do have rules for this. You NEED to ask me first.
If I give permission, you also MUST credit me somewhere in the video and link to my Deviantart in your description.
Also, you may NOT monetize the video without my permission.
Do not.
13. Becky, what are you doing... >: (
Honestly fam I'm digging myself in a hole by starting this project.
Pray for me

14. Now with DELTARUNE out, we may be getting answers to Undertales secrets. Will this affect the comic/au?
Whether Sans turns out to be a Darkner or not, no. This comic will only go by what the fandom knew/made up in the events of UNDERTALE.
15. What do the characters look like?
Do not repost, trace, recolor, and ya know, anything else involving plagiarism. Also, each concept art could change until I actually start the comic.
Also, I drew all the characters references with my finger and a tablet so, eh they still look ok. Probably gonna re-do Gaster though...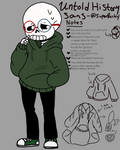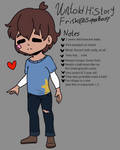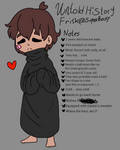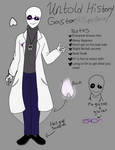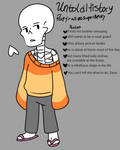 Thanks for reading~!

skin by
dogbff