For those of you who are not happy with the new changes coming with eclipse, there will be a site-wide strike may 1st - 3rd to protest.
more info here:

The Sound Of Silence - DA StatementSo Eclipse is Coming
SEE MY LATEST JOURNAL ON THIS HERE:

I'd like to organize a proactive event to show DA the possible results of a permanent Eclipse change-over. Instead of deactivating your accounts for good, or indefinitely boycotting the site, I'd like to make a Statement of Silence for those Users against Eclipse. Starting May 1st, I will not be active on Deviantart. I will not submit new deviations, journals or even visit the site for 3 Days time. From 12:00AM CST May 1st to 12:00am May 4th. (3 days) I ask all other Users who wish to keep old Deviantart to join me in this statement of silence.
Not Only Is Eclipse Difficult to Navigate, It is so close to Plagiarism it isnt funny. How they aren't in a Lawsuit with Artstation is beyond me!
Look at these site comparisons!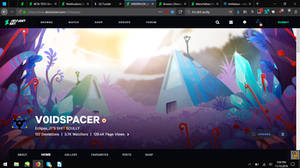 &