personal art piece.

Its been so satisfying finnishing theese two paintings in two days, after a long time artblock.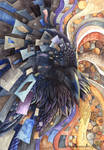 I was working on theese at the same time seperately, switching between painting on one, while the other one dries.
I hope you like the birdies

Media: watercolors, goldleaf and a pencil on aquarelle paper.

Size: larger then a2


Hope you guys have a good weekend! thankyou for following





My patreon page: www.patreon.com/Sunima
Website: https://www.mysteryart.net/
facebook: www.facebook.com/artistsunima
Instagram: sunnymyster

Image details
Image size
2448x3500px 10.98 MB