*Just a few hours left in this sale! It ends at 11:59 PM PST (California time) If you haven't jumped on this yet, this is your last chance to take advantage of my college funding crisis and save big!

Why is this such a rare opportunity?

First, I pretty much never have sales. That means now is the perfect time to grab that print you've been eyeing and get another one for free. (Worried you'll get a duplicate print in a Lucky Bag? Pick out what you want instead, and you'll still save!)


Second, I never discount my Duel Cafe art book ($27) or the Set ($35). This is your chance to get the whole set for only $30 - everything else in the Lucky Bag is free!

Finally, none of what you see in the store will be reprinted. That means when it's gone, it's gone.
shop.yuki-online.com

All orders will ship tomorrow, Jan. 5th!!


-----------------------------

Hey guys! My financial aid for university is up in the air right now and I don't have the funds for my first semester, which starts in two weeks... So I'm having a 4-day sale on my store. These are the lowest prices I've ever offered on any of my stuff and I can't keep them like this for long, so please don't miss this chance!

#1. Lucky bags

For the first time ever, I've put together some high-value bundles of mystery goodness at low prices. Each of these "lucky bags" is stuffed with items old and new. Some items I've included can't even be bought, and some bags are worth over $100!

PLUS, I'm giving away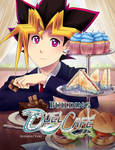 for FREE with every lucky bag!

They start at $10 and I have a limited number of them, so now's your chance to save a ton and get a lot of art for free!

shop.yuki-online.com/collectio…



MINI Lucky Bag -
$10 USD
(8 items total)

YUKI'S SECRET Lucky Bag -
$20 USD
(12 items total)
YU-GI-OH! DUEL MONSTERS Lucky Bag -
$30 USD
(13 items total,
guaranteed to include a full Duel Cafe Art Book Set
)

INSANE DEAL
(Duel Cafe by itself is $27... The full set is $35... The YGO! DM lucky bag is only $30 - that means almost everything in it is free! )

#2. all prints - buy 1 get 1 free

ALSO, for the next four days, ALL of my prints are BOGO Free! Just add them to your cart - no coupon needed.
**Don't worry if you don't see the discount in your cart! The discount will show up when you press the check out button.

-
All items ship flat. No returns/refunds/exchanges. Everything must go.

Please let me know if you have any questions!