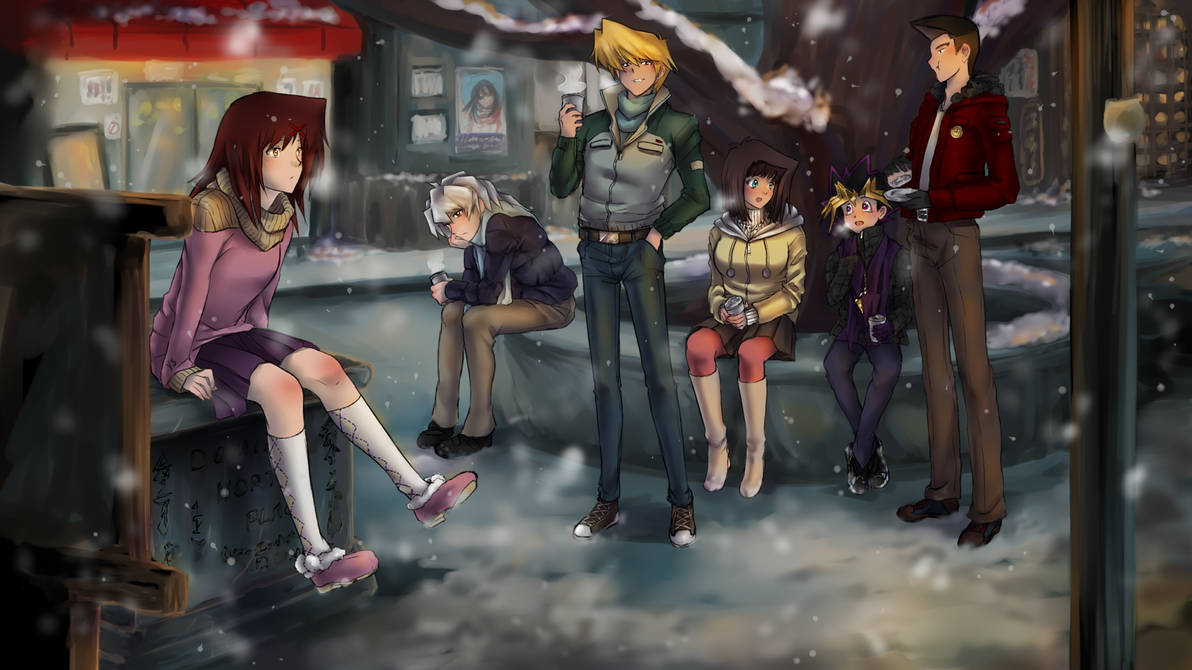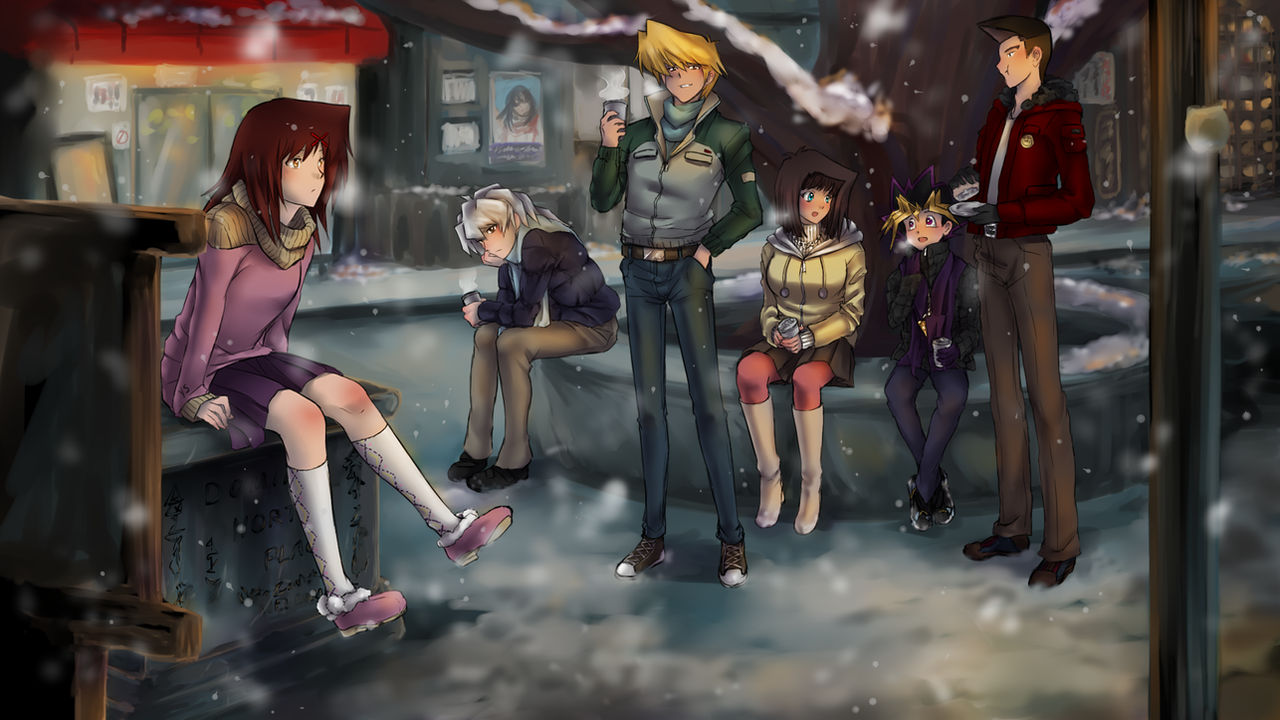 Watch
The whole reason I drew this was because I wanted to design outfits.

Then I thought I'd practice background painting, and then perspective started giving me problems (it still isn't that great, ugh) so it turned into a much bigger deal than just a simple sketch...
The location is entirely made up, based off of a conglomerate of reference pictures, but I would imagine this sort of scene would happen after a day of wandering around the city while not thinking about school~ Urami is totally fine with sitting off by herself despite having accepted the invitation to tag along.
Tools: SAI
Yozaihou Urami (C) me,
fireaangel
YGO! charas (C) Takahashi Kazuki-sensei

Amazing artwork! Love the detail you put.

Reply

This is cute! But why is Ryou sad?
Reply

Thank you! Well, assuming this scene is canon with my fanfic, it's a bit much to try to explain, especially since I don't quite have his role set in stone yet. I suppose I could succinctly say that he's slightly annoyed with the others for all the drama that happened during the day. Also, he tends to take my character's side on some things, and her opinion (and therefore his) got ignored a lot that day.
Reply

Oh I see, I always thought it's because his dad won't be home like he promised and will be alone when he gets back home.
Reply

Don't listen to them, Anzu, your boobs only look big because you're clearly wearing a cable knit sweater underneath your pullover! (Actually, she was illustrated with a sizable rack. There's nothing wrong with that. At least it doesn't exaggerate the size like some art I've seen of Anzu... ;_; Thank you for keeping it real!)

I don't know about the name "Yozaihou Urami," though. I mean "Urami" is a perfectly valid name (usually a surname or a place name, though), but that surname (?) is very odd. Then again, that's the fun of OCs, right? You can name them whatever you want! I thought she was actually Anzu at first, or then a short-haired Shizuka. I like the detail on her knees-- they probably would be red from the cold, right?

Nice work!

Dumb question time: I keep seeing it mentioned everywhere. What is SAI?
Reply

XD Yes, I usually draw girls with smaller chests (such as, indeed, my own character), but Anzu's design calls for a larger size so...yep;;
You're welcome! XD I don't like seeing art showing that with an exaggerated size either;;

I think having odd or unusual names can make the character stand out a little more. When I was naming her back in 2010 Nowadays I use Denshi Jisho kanji look up and their names category, as well as common name lists, I went to the section of the dictionary I don't usually use (the "u") and found a word that suited her life and story, as that's how a lot of characters are named. But then I had to think of why her parents would name her such a thing, so I made their last name "world treasure", where the intent of her name is to resent the treasure of the world. Since Urami is largely an unremarkable character, having an odd name makes her a little more interesting. XD
Yep, I get that a lot XD I think it's only the general hair shape, since they're so different in nearly every other way. o3o When I designed her and my other main YGO OC I created them in my own style first, only adding the characteristic "YGO point" to the hair afterwards, so it's pure coincidence. Urami's designed specifically to be, as I said, unremarkable, so I guess it stands to reason that she would get mistaken for other characters. She just blends into the crowd.

Thank you!

SAI is a really popular art program (full name "Easy Paint Tool SAI"), similar to Photoshop, GIMP, FireAlpaca, etc. You can download a trial version, which lasts for 30 days, I think, and buy a license for around 50-60 USD (don't know what the exchange rate is right now), which is what I did, or find a cracked version. :3 I really like it because it's lightweight and the brushes are good. Sorry, that's more info than you probably wanted XD
Reply

AWESOME!! You rarely see group pics like this in the YGO fandom, I like this very much!!

Bakura and Téa look especially cute here. <3
Reply

Reply

What everyone is thinking:

Bakura: I'm bored!
Joey: I look so sexy in this jacket and tight pants.
Tea: Yugi, are you sure these boobs don't look too big?
Yugi: No! They look perfect... sooooo perfect.
Tristan: Must... not... stare... at Tea's... big breasts.
OC: Why am I here without pants and I still haven't solved the mystery of why my boobs aren't big.

just kidding XD great pic, though.
Reply

Reply

NP though seriously, Bakura looks so bored. I wasn't sure if he was Ryou having a bad day or Yami Bakura thinking, "why the hell am I with these idiots? I swear, Zorc, this better be worth it or I'm sending these guys to the Shadow Realm." lolz
Reply

XD I can see that now that you mention it. Close up, it's easier to tell that Ryou is...it's more like he's conflicted over something. I guess you could call it a "bad day" expression though lol.. If this scene happened at the end of a oneshot I'm writing, he would have had a bad day. o3o

You were pretty accurate about Jounouchi/Joey though XD
Reply

Yeah lol. If it was Yami Bakura, Marik would be there and be all like "Hey Bakura, we can totally steal the Pharaoh's leather pants now! Then, he'll be all like 'where's my leather pants' and I'll be all like 'I have it here, Pharaoh!' Funny huh?" and then Yami Bakura would be like "whatever you say, Marik." Then, they'd be gay with each other, but more in the closet about it, because Marik wants to prove he's straight and Yami Bakura's too tsundere to admit it.
Reply

This is really fantastic! I love your style for drawing these characters. And awww, Yugi & Anzu look so cute talking to each other here. ;w;
Reply

Reply