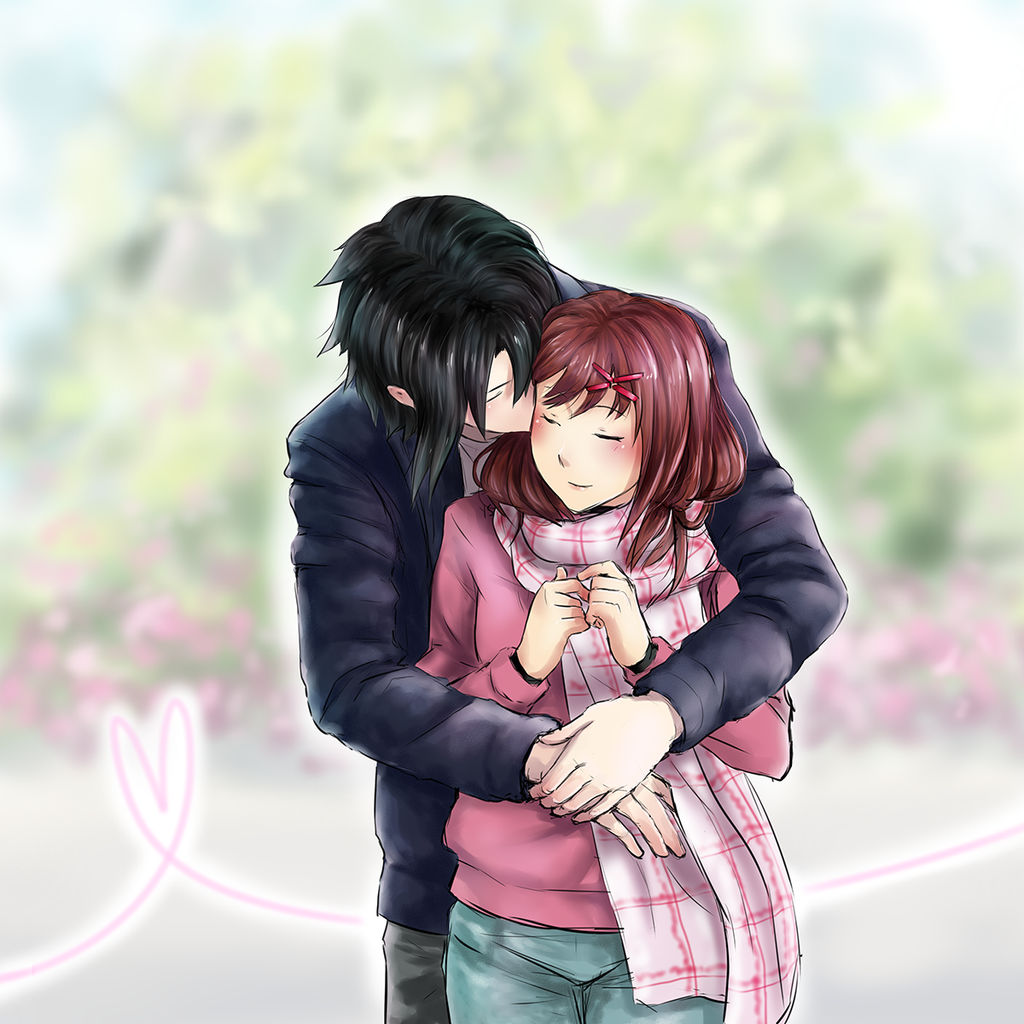 Watch
Happy Valentine's Day, my friends!
It's been eight years since I first dreamed up Urami's story and in all that time I have never been clear as to who she gets
stuck
with. A few of you may remember this guy from a while back; I've only shared art of him a couple of times so what I have up is a bit old now that I've revamped his design.
Not that you can tell because of the pose lol
Anyway, from here on, I'll be sharing a bit more of these two! I love drawing them but I've just been hoarding the art until now ;v;
SEKKOU
Also known as "Fukurou", an alias given to him by Gurimo when he joined the now-defunct DOMA/DOOM.
Age: 19 here
Birthday: December 30 (Capricorn)
Family: divorced parents; younger brother and sister - whereabouts unknown
-A young man of few words.
-Highly skilled in martial arts.
-Afraid of losing relationships as it destroyed his family. He has vowed to protect those precious to him at all costs.
-Gets irritable when hungry.

Loves Urami's loyalty, devotion, and awkwardness. And her small size fufu
URAMI
Common nickname is "Uyamin"; Sekkou often calls her "Umi-chan".
Age: 18 here
Birthday: February 19 (Pisces)
Family: parents Rakuji (dad) and Tsubaki (mom)
-Likes people-watching.
-
Has a guarded heart that is fairly calloused towards others for fear of them leaving her.
-Fumbles and drops things when flustered.
-Gets hay fever in Spring.



Loves Sekkou's reliability, honesty, and steadfastness, as well as his determination to help her heal. He's also saved her life.
--
Tools: SAI (art), Photoshop CC (edits, text), reference used - I highly recommend the Instagram account lovegraph_me for references of couple poses ♥
Patreon | Store | Twitter | Tumblr | Commissions Info | YouTube

I can't get over how beautiful these pastel colors are! And I love the pose! <3
Reply

Reply

They look so happy together. I don't think I have seen a drawing of Sekkou before, so it is good that I am getting to see him for the first time. I hope that you draw him more, so that I can see more of him. The embrace he is sharing with her truly shows how happy they are together. Nice work and Happy Valentine's day!
Reply

I'll certainly be sharing more art with him now, so you will indeed see more of him. Thank you!
Reply

D'awwww! This came out so cute! I love the poses and the soft colors used here, and the overall happy feeling of the picture! It's rare to see such a content look on Urami's face which only adds to the preciousness of this tender moment.


Happy Valentine's day!

Reply

Thank you! I had so much fun drawing this x3 Urami rarely gets happy moments, so it's nice to finally give her one.
Same to you!

Reply

You're welcome! I can really tell how much you enjoyed it from the happiness of the scene. Art just tends to look even warmer and better when the artist enjoys making it. <3 I know, I'm really happy for her and her special someone. They both look so peaceful and content and just...eep! Makes me fan girl. XD
Reply

Aww that's true ^^
Hehe

I'm definitely going to be sharing more of these two now that the ice is broken XD
And eventually I'll get those chapters written so the story can catch up to this point - where Urami can finally be happy instead of miserable. ;v;
Reply