"I thought I should tell you that you're actually not completely incompetent and don't make yourself nearly as annoying as other people I know. Don't think this means anything. I'm just saying I don't mind having you around."
Hey guys!
You know how there are these [Character]xReader fics out there? I never read them because it's way too awkward XD; BUT...

Valentine's Day is coming up, and I had this fun idea to do "Love Notes" inspired by that! For $16 each, I'll draw your favorite character (canon or OC) confessing to you XD Details here:

[OPEN until 2/2] Valentine's-Themed Commissions
Now open!
These THEMED commissions are only available until February 2nd! I guarantee to have them finished by February 14th.


Patrons get first priority.
Regular commissions are open too! Please click [here].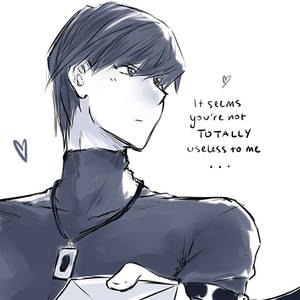 Character x You

Love Note - $16

1500


I'll draw a character of your choice (canon or OC is fine!) confessing to you with a love note!

- bust-shot sketch only
- monochrome shading (you can pick the color)

(there are others based on your suggestions too

)
I picked Seto as my model since I figured he'd be the most tsundere stiff about it XD;

How would you respond?

Tools: SAI

Time: ~1 hr