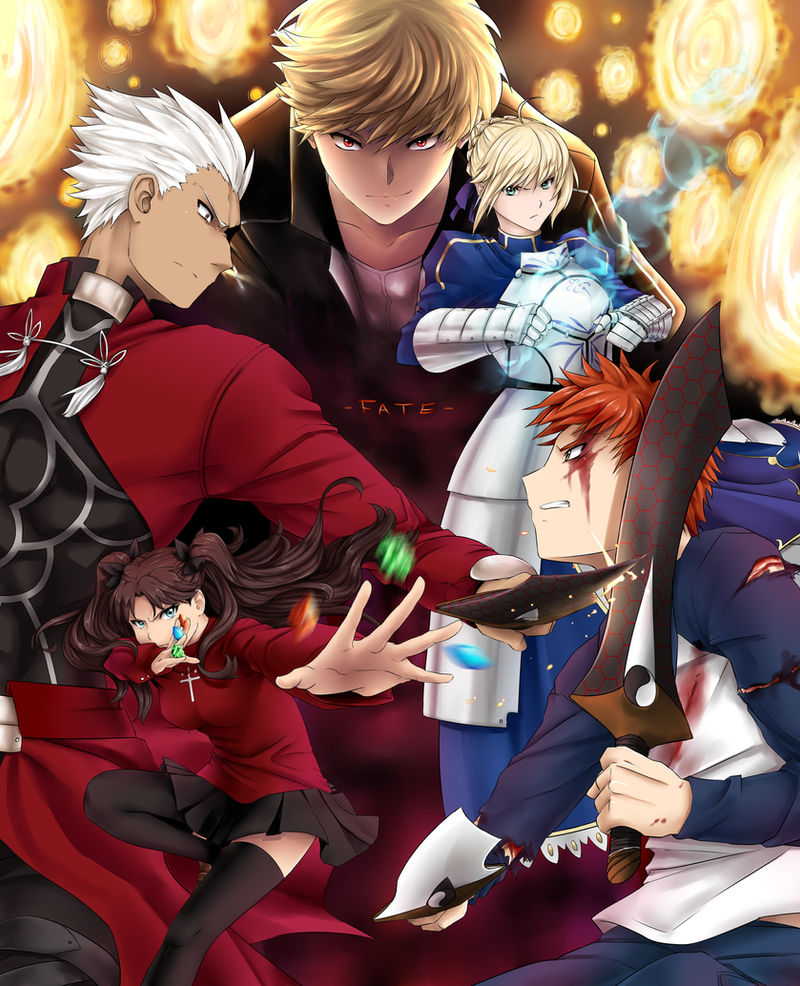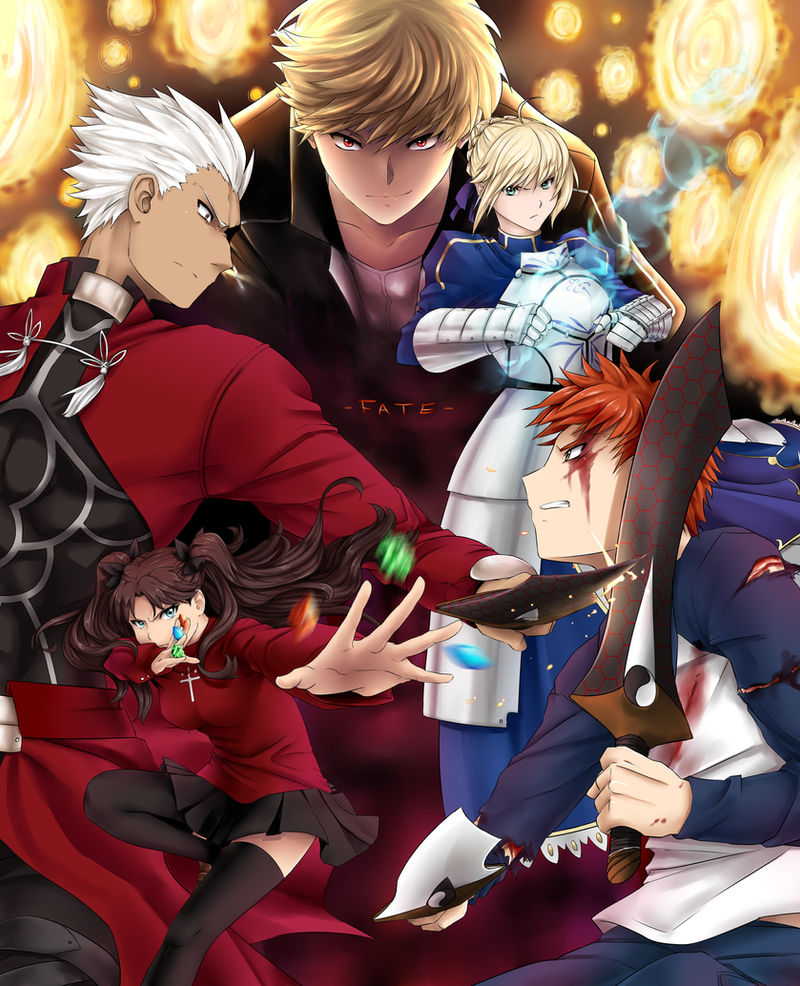 Watch

Speedpaint added! Watch here: Part 1 | Part 2 | Part 3
Unlimited Budget Works fanart complete!!! Finally. ;w; I wonder why my first ideas for fan art for a series I've just finished are poster-style drawings... They're fun to do, but they take a while ;w;
My introduction to the Fate/Stay series was through the manga (or, the one adapted from the original anime). I bought the first five volumes a couple of years ago and read them a few times, but never tried to find any more. XD Finally I heard there was a new anime out, so I started watching it from around the point where I had left off in the manga...only to realize that I was not watching a remake, but an entirely different version altogether.
Then
I looked it up on Wikipedia and discovered that F/SN was originally an otome game, which splits into three routes based on whichever female you prefer Shirou to follow. My mind was blown. I hadn't just switched from manga to anime, I had completely jumped routes. oAo; (from Saber's route to Rin's route) No wonder I was so confused at first XD;
I have to say, I was greatly dissatisfied with that epilogue. Shirou in this route seems to have no concept of
options
(as such, the series is titled appropriately). There are so many ways one can be a "hero of justice" besides physically fighting for justice. In addition, I really disliked the hopelessness the whole route portrayed. :/ Good things were, of course, the amazing backgrounds and smooth animation, the basic storyline, and the character interaction.
(Except Shinji. Everyone hates Shinji and interacting with Shinji. *cringe*)
I haven't seen Fate/Stay Night (the original anime), but from screenshots alone Unlimited Blade Works is definitely better visually, in general.
Which route is your favorite?
--
Tools: Paint Tool SAI (main), Photoshop (final edits)
Time: ~14+ hours
Commissions Info | Twitter | Tumblr | Store | Patreon | YouTube

OWO so shiny!! Beautiful artwork!
(I haven't seen this anime, but it looks interesing)
Reply

雪ちゃんのイラスト、生き生きして良いね。
日本のアニメへのLove、凄く感じます(*ノ∇)ゝ
Reply

The original Fate/Stay Night anime is the best with how (like the manga) follows mainly the Fate route while including elements from the other two, but altering them.
Reply

From what I read, I agree. I think I'd like to try watching that one if I can find it. Blending the routes together a bit makes the most sense to me, haha.
Reply

Blending them is good, but ultimately following the Fate route as it is the main and true one which has the true ending of Shirou and Saber reuniting in Avalon. you can watch that anime here (
kissanime.com/Anime/Fate-stay-…
). BTW, also check out the manga which does the same as the true anime while expnading more on it.
Reply

This looks really good! Love the poster concept, Shirou and Archer's face-off, and Gil's Gate of Babylon in the background.
Reply