Hello everyone !
I'm, Killfaeh or Suisei Killfaeh.
Since my hands were able to grip a pencil I always scribbled, brushed, painted all that was at hand, the sheet of paper like the tapestry of the kitchen.
The collections of comics are not missing in the family so I wanted to tell my own stories very soon. The "Club Dorothée" (a very famous french TV show which broadcasted japanese cartoons during the 80s and the 90s) has naturally focused my interest on mangas.
Now, I have a old school hybride style mixing 80s mangas' style and old black and white comics' style.
Science and especially astrophysics have fascinated me as long as drawing, so today I am a scientist, an engineer and an artist, all at once, and my stories have naturally been directed towards science fiction and space opera without forgetting a touch of fantasy story to dream a little.
Welcome to my world and I hope you will have a good time by reading my comics.

You can read them here (click on the previews) :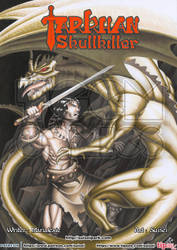 Other places where you can find me :


Patreon


Tipeee


Website


diaspora


facebook


instagram


twitter


tumblr


Youtube


my previous dA account
,