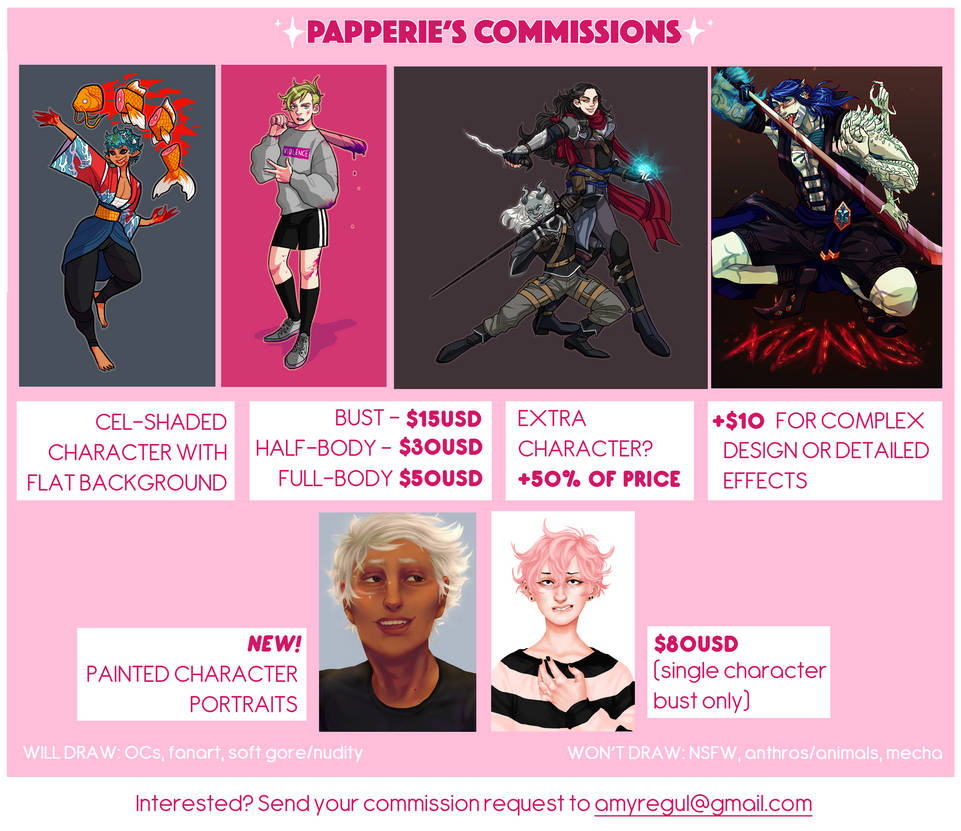 COMMISSIONS ARE OPEN!
Welp, I'm broke again so it's that time of year! I've adjusted my prices, and also expanded what I'm offering! I'm also open for custom commission ideas, so feel free to hit me up if you want something unique!
I'm not doing slots unless I get a bit too overwhelmed, but I'll let you know the ETA if there's a bit of a queue!
*****
DETAILS:
All main commissions are cel-shaded characters with a flat colour background

BUSTS are $15USD
HALF-BODIES are $30USD
FULL-BODIES are $50USD
Additional characters are +50% each

That's $7 for busts, $15 for half-bodies, and $25 for full-bodies
Complex designs or detailed effects are an additional $10

This may also be charged if minimal-to-no visual references are provided, due to the extra design work (photos are 100% okay if you don't have drawn references!)
Payment is accepted through Paypal only (I require full payment before I start your drawing!)
WILL DRAW:
OCs, fanart, soft gore/nudity, humans/humanoids
WON'T DRAW:
NSFW (i.e. hard gore or pornography), anthros/animal or mecha (sorry, I'm just not very good at them!)
CONTACT:
If you're interested in commissioning me, please send me an email at amyregul@gmail.com.
Please include character references and/or descriptions of what you would like in your initial email, so that I can get back to you as quickly as possible!