Wow just realized that my last real journal post was back in *goes to check* February.... I knew that!! Any who what's been going on with me? Well things have been hectic what with mom recovering from surgery and me helping out around the house a lot more and her going back for chemo.... I kind of can't wait for this all to be done with so I can go back to a normal life and possibly move in with my boyfriend.
Any who as for art that has not really been on my mind but I have been working on the NanoEmo from like three years ago to try and finish that since I saw the previews of suicide squad and for some reason that made me want to work on that. So here is a little preview of what I've done so far
->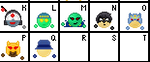 Click it you know you want to!
Any way how has everyone else been? I feel like I haven't talked to you guys in a while.