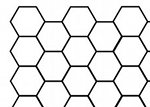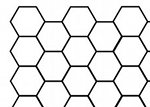 Watch
5/8th inch, portrait orientation, US Letter Sized Paper
GIMP .xcf file format www.gimp.org
Feel free to edit to suit your needs. I recommend adding layers underneath for most mapping needs.

A sheet of hexes for wargaming and RPG needs! Great for 1/2" counters for the wargamer.

Yep, we Know you're "Old School!"
Show Hex-Grid Game Sheets (and the Games themselves) to anyone under the Age of 25 and they don't know what you're Talking about....
Reply

I wouldn't say 'anyone under 25', just about 90-96% or so... There are some exceptional young folks out there who play hex grid and square cardboard piece games!
Reply

This is great! Just what I needed really. Planning a game with my old man based on his old war games. Thanks a bunch.
Reply