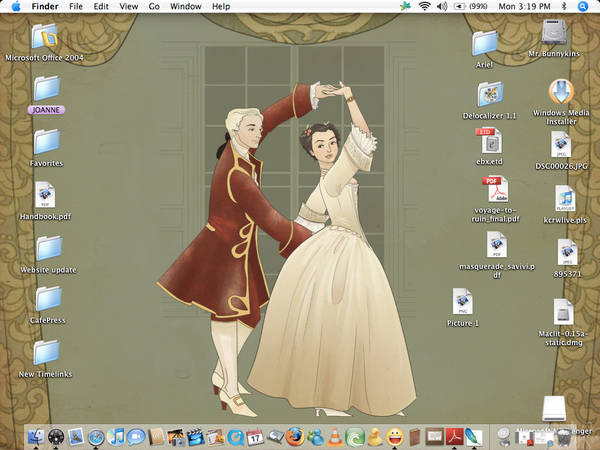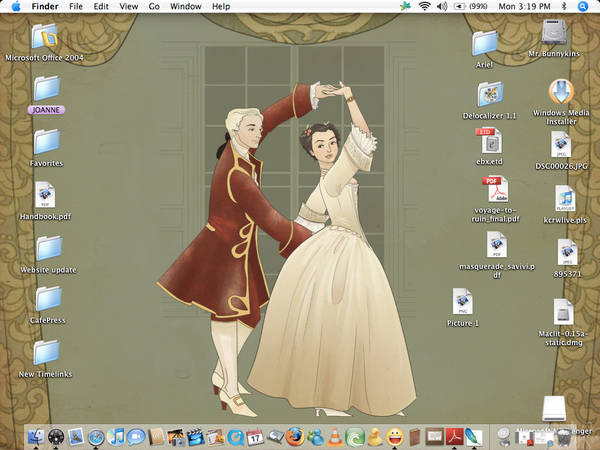 Watch
Isn't it lovely? Now whenever I turn on my computer I can think of my characters, Prince Fred and the mysterious Miss M. Thanks,
!

Original can be seen here:
[link]

That's awesome! AND YAY IT'S A MAC!! MAC'S RULE!! ha ha
Reply

They're great until they decide to inexplicably break down, of course.

Reply

Yes I'm having that problem with mine actually, however, it's most likely because it's around 5 years old and running on outdated software. Ahh what I wouldn't give for a Black MacBook!!
Reply

This is soooo sweet...and the fact that your computer is called Mr Bunnykins makes it all the sweeter.
I too have an ibook. They are so darling

I'm contemplating treating myself to a new imac but I'm scared that there is a newer new one just round the corner. Oh such a dilema

Reply

LOL, I'd forgotten you could see my computer's name! As you can guess, I had a bunny desktop for the longest time, but I decided to change it.

I love my computer, but I bought it in May '06, and I'm still kicking myself for not waiting a week and getting an imac! So I totally understand. Ah well, it's so hard to predict Apple...
Reply

Pretty indeed -- I can hear the music!

Reply

Awesome desktop! It looks great!

Reply

Aaaaaaww!! You're very welcome. It looks so sweet! You have the coziest looking Mac.

Reply

Thank you, it's my little iBook...and "cozy" is just the word for it!

It's not the newest, but it's nice to work on, especially considering my other computer is a buggy Windows box that was acting up last night.
Reply

Aw, my mom has one of the first iBooks, but it just went kaput last night.

Like dead dead. The Mac people won't repair it, it's that dead. But it was so sweet and white.
And do I know about buggy Windows. Yeesh.
Reply

Oh, that's so sad! My condolences. Was it the original clamshell, or was it the second generation G3? What year did she get it? Mine's a G4, and I bought in May '06, right as the line was discontinued. I'm wondering how long I can expect my little computer to last... //knocks on wood

Yeah, my buggy Windows box is a Toshiba, and that's generally the computer that I do most of my work on. But it's been acting up lately, and I think I'll have to reinstall XP when I have some free time. Grrr...
Reply

I don't know if it's a clamshell, but she got it in 2002 - LOL. She's not tech savvy enough to want anything more. And aw, I hate it when you get things right before they stop making it. At least your Mac people help until it's impossible.
Before I got my Vista computer, I had dropped my older one, right as I was taking it out of the box after moving from college... causing it to shut off randomly, ususally when I was working on important stuff. Not even the tech guys could fix it

Reply

Okay, so I guess that means I have three years until my own machine goes into the Great Beyond. Hmm....
How vexing! Well, I hope your new computer is working better.

Reply